Kris Aquino represented the country well during her red carpet debut in Hollywood where she wore five Filipino-made gowns. However, she wasn't able to wear the gown designed for her by Francis Libiran.
The acclaimed Filipino designer was still proud of Kris and the other designer gowns and so Kris explained why she did not wear his gown.
"I loved your creation, especially the yellow but I have a badly bruised left arm from my Indonesia health scare and the sleeves ended right where the bruising was most prominent," she told Francis.
"[Francis] was such a good sport—he said whichever Filipiniana would be PERFECT. I just didn't want people to speculate about my health so I'm expressing it here now—my being anemic makes me so prone to bruising especially after bad allergic attacks.
"I shall wear that beautiful modern Filipiniana SOONEST."
Francis replied, "Thank you, and congratulations Kris! We are so proud of you! You looked stunning and gorgeous! And I am so proud of Michael Leyva for doing a great job not just for you but for Philippine fashion! Your presence in Hollywood best represents the power of Filipino artistry and creativity showing the world what we are really made of."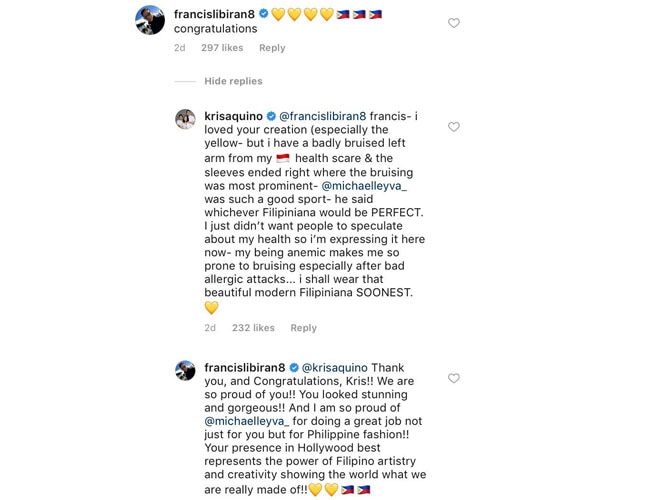 Kris portrayed the role of Princess Intan in the Hollywood film Crazy Rich Asians which will be shown in Philippine cinemas this August 22.