Explaining why people should see the film Jacqueline Comes Home in a lengthy Facebook post, netizens bombarded Donnalyn Bartolome with negative comments online.

Donnalyn, who plays the role of the alleged gang-raped and murdered Marijoy Chiong, took the time to defend herself after netizens who saw the award-winning documentary Give Up Tomorrow started questioning her decision to accept the role in the Viva Films-produced movie.

"We all believe there could have been more or less perpetrators but that doesn't mean the Chiongs didn't go through the suffering that they did. This is the story of the Chiongs no one has seen. It's their story behind the cameras and the media. People are saying the movie is biased and to not watch it.. but won't you be the biased one if you don't? Just picking your brain, that's not supposed to be answered," she wrote.

"As for people disappointed because I accepted the role, I don't regret it. You can quit saying I didn't do my research because I did. I know this would raise safety awareness and anyone who really knew me knows how paranoid I am when it comes to that matter. And as an actress, I focused a lot on how the family felt to be able to act my best in this film.. Not biased on any side. I was just being professional. Both sides went through pain and I feel so sorry," she added.


But Donnalyn's post created further discussions, which led to more netizens feeling sorry for the accused - Paco Larrañaga - who was allegedly denied justice after spending more than two decades in prison.

Some of the comments, which has taken a toll on Donnalyn's part, prompted the young singer-actress to respond to a few of them.

"People are automatically assuming that I didn't do my research. How do you know? I'm trying to be as neutral as possible because both sides suffered. I even said that the accused deserved a more fair trial before anything else? Did you guys really read? Why are you guys disregarding that fact? I watched that documentary twice and showed it to my friends, way before most of you did. 10k pa lang yata views nun sa YouTube. I cried for them," she said, replying to one netizen who asked if she doesn't feel bothered that they still pushed through with the film even though an 'innocent person' was convicted.

"Much as I cried for Marijoy and Jacqueline Chiong That is why our director made sure she'd cover that both of matter too. All you guys gotta do is see for yourself before you comment. But no one is forcing you or anyone. The trailer is 2-3 minutes of almost 2 hours of a film, that's only about 4% of the whole movie... do you really think that's all the movie is about? Nastress ako sainyo nagmath nako oh. Goodness," she added.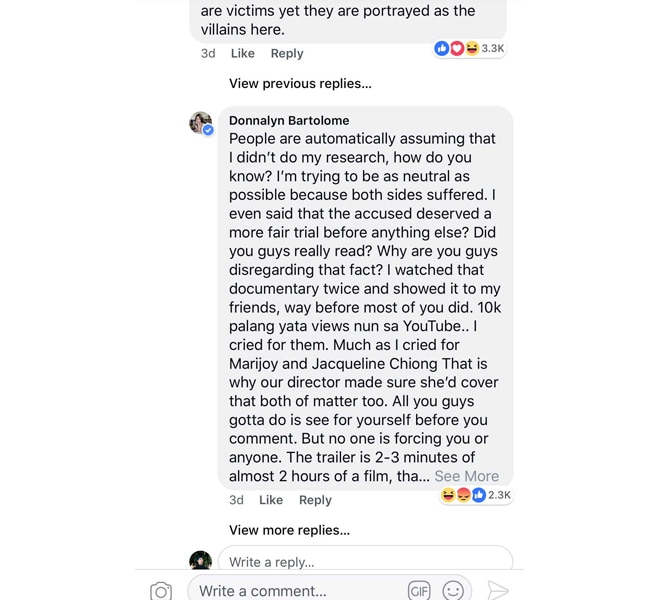 Jacqueline Comes Home is inspired by the infamous 90s rape and murder case that tells the Chiong family's side of the story.