As one of the more politically outspoken celebrities in the country today, Agot Isidro has never been shy about letting her views be known, whether it be on social media or during interviews with the press. Some of her statements did not seem to go down well with one netizen with the handle @RusCo87690206 who went as far as to send her death threats online.
The actress shared a screen cap of his message and wrote, "Kailangan ba umabot tayo sa ganito?
Twitter user Real (@RusCo87690206) wrote:
"Malaman ko lang presCon mo pupunta talaga ako. I'll make sure labnos mukha mo sa asido."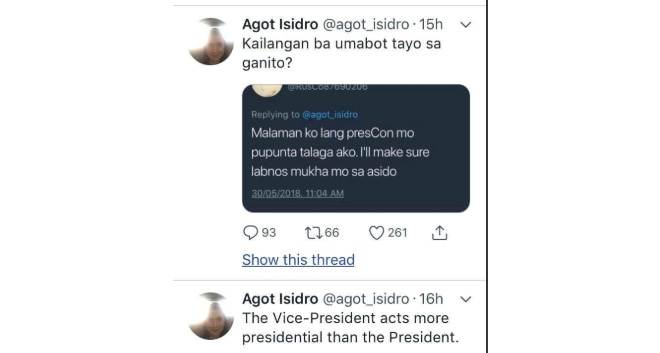 The netizen continued to vent his anger against the actress and threatened her again.
"F*** you PO! Aalamin ko venue ng prescon mo bubuhusan talaga kita ng asido," he ranted.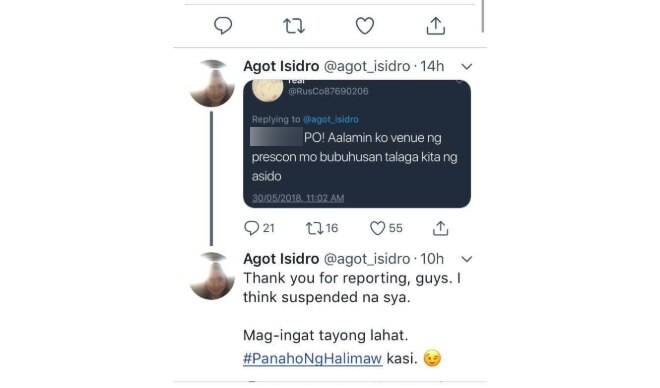 After the menacing tweets were reported and deleted from the said account, the Asintado actress tweeted a message of thanks to her followers who helped her report the account.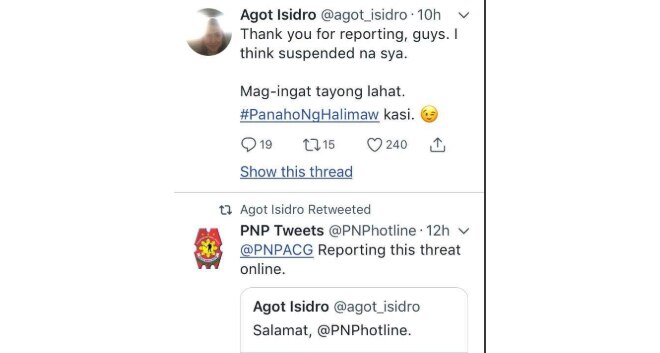 She wrote:
"Thank you for reporting, guys. I think suspended na sya. Mag-ingat tayo lahat. #PAnahonNgHalimaw kasi. ;)"