JM de Guzman's father Ronniel took to Instagram to apologize to the people close to his son whom he might have hurt and asked for understanding. On Friday, Ronniel posted on Instagram a video of his family's first reunion with JM, which was taken five months after the actor entered rehab, recounting their journey with him.
"Kaya masakit sa bangs pag may nangyari pa uli kay JM. We've come so far. Sana maintindihan nyo ako. I'm sorry kung may nasaktan akong mga tao na alam ko malapit sa puso ng anak ko," he wrote in the caption.
A few days ago, Ronniel made the online world abuzz after posting a photo of JM and his friends drinking. In the caption he wrote, "RECOVERING PO." In his post, he included the hashtags "#maymali" "#ikawnawumiwas," and, "#wrongcompany." Netizens were quick to point out that Ronniel seemed to disapprove what JM did.
Meanwhile, JM also took to Instagram to apologize to his father. In a post on his Instagram Stories, JM wrote, "I sincerely apologize. I was wrong. Sorry for hurting your feelings. I'm really sorry dad. I love you. @ronnieldeguzman." JM's post was accompanied by a quote.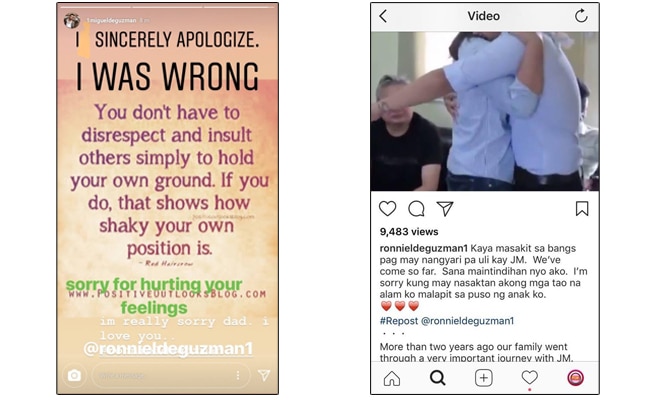 Image Credit: @1migueldezuman (Screenshot by Fashion Pulis) (L)
Image Credit: @ronnieldeguzman1 (R)