When news broke out that Baron Geisler was arrested in Pampanga yesterday on account of issuing grave threats against his brother-in-law Michael Morales, his older brother Donnie Geisler took to social media to issue a public apology via his Facebook page in the early hours of March 7, Wednesday.
Apart from apologizing for his brother's behavior, the taekwondo athlete also wrote, "My brother- in-law Mike did what he had to do to protect his family. Mike loves and takes care of Baron like a brother ever since he met my sister Grace. When Mom had cancer they decided to get a house wherein they could be close by to help take care of mom. Mom died last year January 2017 and Baron took over the house so they are literally neighbors, Baron has been a burden to Mike and my sister's family most especially when he's intoxicated."
In his post Donnie also acknowledged his brother's behavioral and alcoholic problems for the past few years.
"Since our mom's passing last year he's been very depressed and adjusting has been hard for him which made the situation excruciating for everyone especially when he's intoxicated. Many times he got involved in many problems and at one point I had to bail him out of jail."
The former Pinoy Big Brother Celebrity housemate also revealed in his post the sad reality of what they have been living with because of Baron's problems and ended the post on a hopeful note that his brother will take a turn for the better.
"We're hoping this time would be a good opportunity to get him the help he really needs and we're hoping he would surrender and accept that he has a serious problem and also we want what's best for him. Rest assured that the family is doing its best to find the best solution to resolve the matter privately. I am hoping for your understanding and prayers."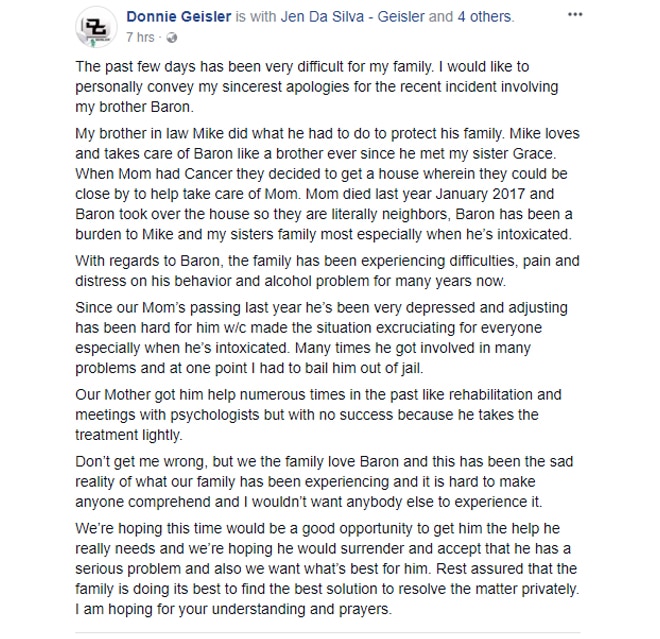 Screenshot from Donnie Geisler's FB Page