In the 1980s which today sound like eons ago, there was no reel-and-real life couple more celebrated than Sharon Cuneta and Gabby Concepcion. From the time they portrayed reckless young lovers April and Jimmy in Danny Zialcita's Dear Heart in 1981, there was no stopping the two from scaling the heights of stardom. In Cuneta's part, even megastardom which isn't bestowed on just about everyone.
The screen pairing of the diplomatic, Inglisera, exclusive school-educated mayor's daughter and Regal Films' fair-haired boy Gabby Concepcion, discovered though a popular toothpaste commercial and is from a well-off family in San Juan, was the perfect foil to the other leading love team of that era, the comical team-up of Maricel Soriano and William Martinez. Where Taray and Kulit's appeal was inspirational (both came from humble beginnings), Sharon and Gabby's was aspirational. In kanto terms, the two were "amoy-mayaman."
Poor rich young lovebirds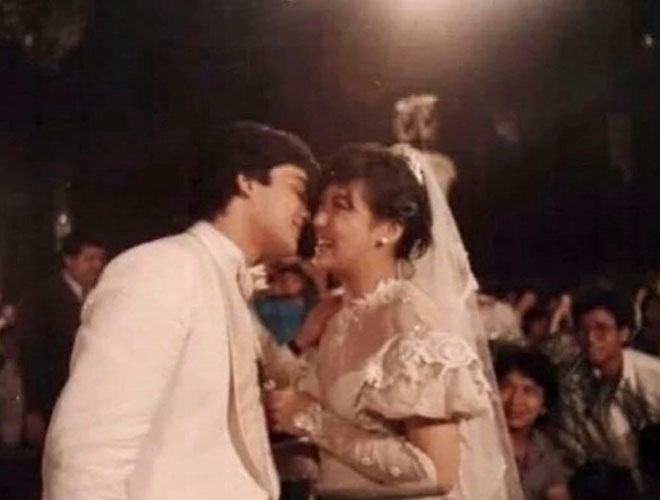 Photo credit: Sharon Cuneta Facebook page
Cuneta and Concepcion starred in a string of movies (e.g. P.S. I Love You, My Only Love) about rich beautiful young people who lived in palatial abodes and whose only real problems were their rich problematic parents and how their young love would conquer all.
In no time at all, the on-screen attraction would spill over into real life. After a brief separation, during which Cuneta was paired off with other leading men like William Martinez and Rowell Santiago, Sharon would reunite with Gabby in the komiks-lifted drama Dapat Ka Bang Mahalin? and the box-office results were miles apart from the grosses of Sharon's movies without Gabby.
A fairy tale wedding in 1984 sealed the love story of the two immensely popular young stars. In a pre-social media time, the impact of that union was felt in the form of a compilation movie called The Best of Sharon and Gabby which featured scenes from past starrers of the pair and footage from their wedding. The film still made a killing at the tills.
The two would be blessed with a daughter named Kristina Cassandra Cuneta Concepcion, now known simply as actress-endorser KC Concepcion, a spitting image of her dad.
Some good things don't last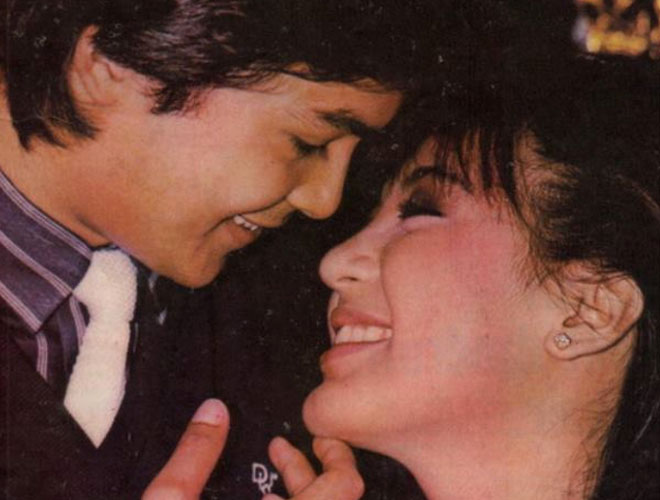 Photo credit: Sharon Cuneta Facebook page
The fairy tale started to show cracks, and after three years, Sharon and Gabby would separate. Any true-blue Sharonian and/or Sharon-Gabby would have in his/her recollection this image of Sharon famously singing Captain and Tennille's "Don't' Forget Me" during the last part of one episode of her old variety show The Sharon Cuneta Show on IBC 13, signaling the end of her marriage to her Prince Charming.
By this time, Sharon has proven that she could stand on her own, chalking up an impressive roster of blockbusters sans Gabby Concepcion. Films like Bituing Walang Ningning and Bukas Luluhod Ang Mga Tala come to mind.
But the first film she made after the separation was not a big box-office bonanza, by Sharon's standards. The movie was called Pasan Ko Ang Daigdig, a remake of Gilda, a komiks vehicle of yore of the great Lolita Rodriguez. It was also Sharon's first collaboration with the late film master Lino Brocka. She would do two more movies with Brocka, namely Biktima and Babangon Ako't Dudurugin Kita.
Free from the stranglehold of a love team, Gabby would come into his own as a sought-after leading man, winning acclaim and picking up two Gawad Urian trophies for Makiusap Sa Diyos (Best Supporting Actor) and Narito Ang Puso Ko (Best Actor) along the way.
Many rumors would surface abut what led to the break-up of their marriage but all these remain speculations to this very day other than the fact that Concepcion was married to another woman in the US before his marriage to Cuneta. In a viral Facebook thread, Cuneta under the pseudonym April Mondragon, her Dear Heart character's name, addressed this matter: "(Gabby) Married before me for the green card lang. America. Mamaya, namemera na raw. Kaya lang, 'kala ko, nag-divorce na before…"
No closure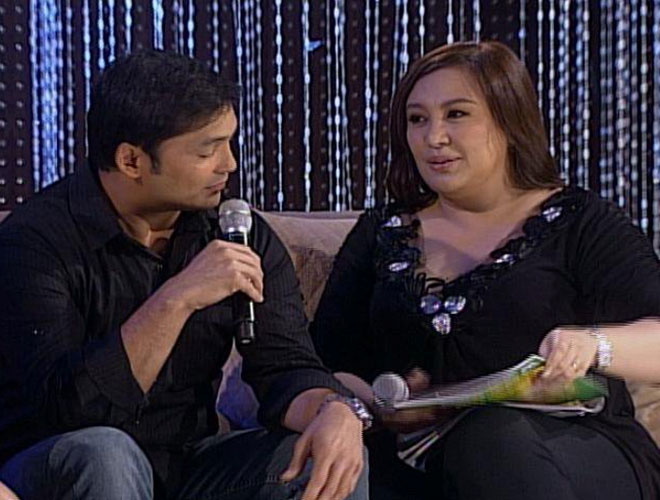 Photo Credit: ABS-CBN News
In between romances with other parties, Sharon and Gabby would reunite on screen three more times in the early '90s, the last one being Tayong Dalawa in 1992.
Embroiled in scandal after scandal, Concepcion would leave the Philippines and the showbiz scene and spend 13 years in exile in the United States. He had a grand homecoming in 2008 and even did a film with his daughter KC.
There remained, however, a deep chasm that existed between Cuneta and Concepcion.
The time apart led them each to search for personal happiness. Sharon married lawyer Francis "Kiko" Pangilinan, now a senator while Gabby tied the knot in the US with a non-showbiz girl named Genevieve Gonzales.
The second decade of the third millennium found Cuneta struggling to rekindle the glory of her salad days. In late 2011, she moved from ABS-CBN to another station only to return to the Kapamilya fold in 2015.
By this time, a new kind of audience has taken over – very young, bred on social media more than books, predominantly engaged in frivolous undertakings, if you can call their preoccupations undertakings at all. To them, Sharon Cuneta, even Gabby Concepcion are great relics from another era.
If one has achieved the kind of staggeringly huge stardom that Cuneta used to enjoy, perhaps one would begin to understand her frustrations. Not unlike some of the other movie queens who came before her, she has devoted more than half of her life to acting and performing. She had lived a hundred lives on the screen, big and small, and feels that she still has a lot more to offer. A few more films to make, a whole lot more of songs to sing.
Unlike Vilma Santos, Sharon Cuneta confesses to being apolitical, hence she has not transitioned into a public servant.
Her life has been lived under the klieg lights. It is a tad too late to think of another life apart from being a star outside of being a wife and mother.
Social media versus stars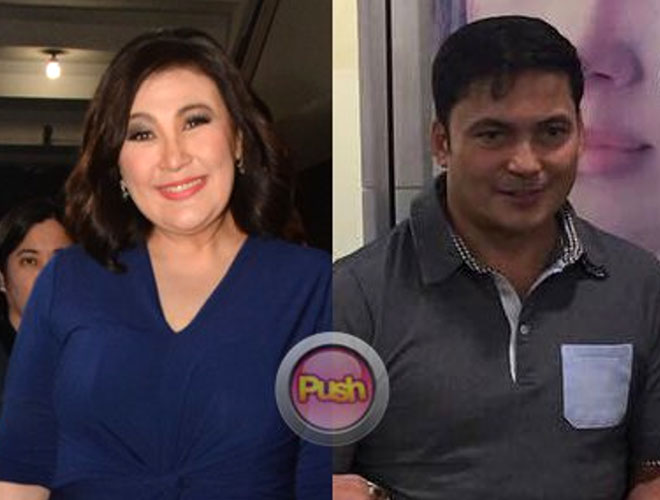 A greenhorn on the ill effects of the social networking phenomenon, Cuneta has come to treat the various social media platforms as a personal dairy, often divulging way too much personal information to a nosy netizenship perpetually on the prowl for the next prey.
Cuneta's previous social media outbursts had been met with varied reactions, ranging from amusement to pity to disappointment. Loyal fans rallied to her side but the more vicious of the web contingent feasted on her without pause or mercy.
Her Sharonians have kept memories of her reign and of her love team with Gabby in their hearts and fond recollections. There started the clamor for a return big screen outing for the former golden couple of local showbiz.
Media would report about negotiations for a movie reunion but apparently, the plans fell through.
Begin again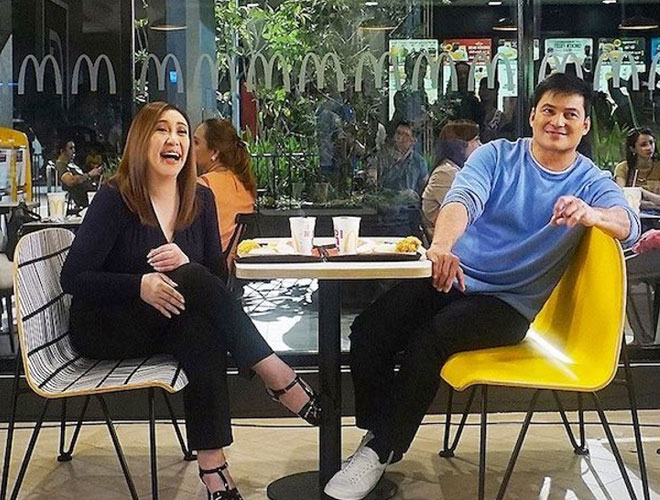 Photo credit: McDonalds Philippines
Until on Friday, February 9, a few days before Valentine's Day, the online version (a TVC aired soon afterwards) of a Sharon-Gabby commercial for a fast food chain burned up the Internet. Within a day after it was uploaded, the video set to the classic song "Kumusta Ka" garnered over three million views.
Talk about what a beloved on and off-screen couple from a bygone era can bring about with a few minutes' worth of time together in one frame.
This comes on the heels of a seeming new lease on life in Sharon and Gabby's individual careers. Sharon scored a big-screen hit last year in Unexpectedly Yours where she appeared opposite one of her former screen and real-life inamoratos Robin Padilla. Gabby proved his strong leading man status with a long-running afternoon soap.
Reeling from the unexpected success of the reunion with Gabby, Sharon has expectedly waxed nostalgic on social media, glowing with the color of triumph, even engaging some netizens with an impromptu tell-all that leaves one hoping that the star would be more cautious this time round. She could be too open to a fault.
True to form, Gabby has responded like the old school gentleman that he is. He has expressed his gratitude in lesser words.
One of the great things to come out of this much ado about Sharon and Gabby is inarguably the chance to let bygones be bygones. Renew ties, sending their only daughter ecstatic. Start over as friends, again.
That big screen reunion may or may not see the light of day but Sharon and Gabby, eternal idols both, can take comfort in the knowledge that this one special moment in time will go down in history as monumental poof of the inexplicable nature of magic and charisma. The kind that spells adulation and sparks hope in alarming times like the one we are in.
Hope is always a good thing.