In the spirit of Christmas, Heart Evangelista recently decided to foster a kitten that she chanced upon the streets last Sunday.
On her Instagram Stories, the actress said that she's keeping the kitten—which she aptly named Linger—until a kind-hearted soul would step up to give her a permanent home.
"Meet Linger. I'll be fostering her for a while and if any of my friends would want to give her a home this Xmas, please let me know," said Heart.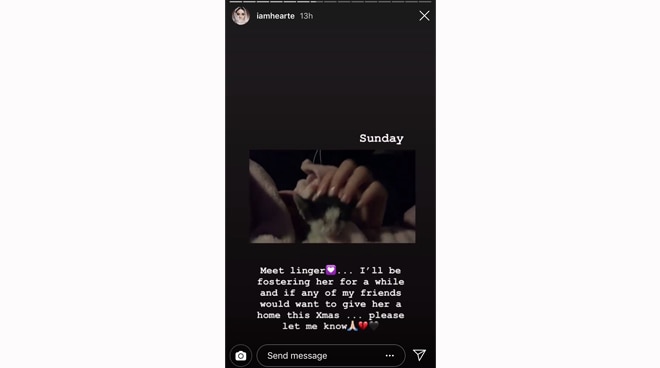 In a separate update, the My Korean Jagiya star shared photos of Linger getting cozy in her posh home post-bath.
"One man's trash is another man's treasure," said Heart along with the hashtag #LingertheCAT.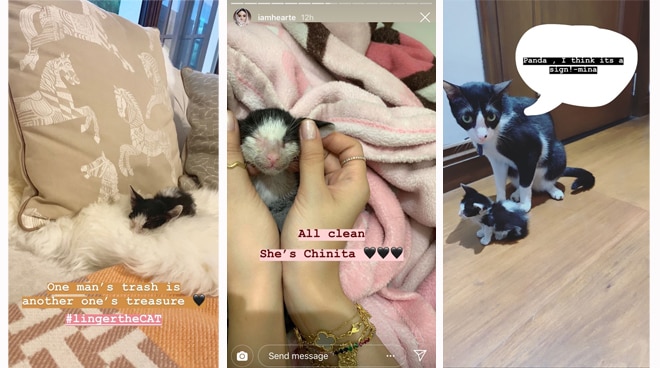 The 33-year-old celebrity is actually no stranger to helping stray animals and giving them the love and care they need. In fact, Panda, her dog, is an AsPin that she adopted three years ago as a longtime patron of the Philippine Animal Welfare Society (PAWS).
In her blog post dated December 11, Heart told the story of how she wasn't supposed to adopt Panda, but ended up doing so anyway.
"A lot of people don't know this, but Panda wasn't actually supposed to be my own puppy. In my article with PAWS, you learned that my family fostered a lot of street animals which we would give up for adoption. Panda's mother was actually one of the many AsPins who walked around our family home in Batangas, and who was lovingly taken in by my father. "
"When Panda was ready, she was given away to a woman who wanted to adopt her. The moment Panda was taken away, I instantly felt a deep separation anxiety. I quickly realized the extent of how attached I was to Panda. Within just the first three hours of being separated from her, I realized that I needed to take her back," said the actress.
According to Heart, she was careful in her plans to retrieve Panda from her supposed owner.
"At first, I was really hesitant to approach the woman who adopted Panda. Of course, I did not want to seem rude to her. But I couldn't imagine my life without Panda, so I told myself to persist. I thought of a plan to get Panda back, which was to find another puppy who would be just as loving to her as Panda would be. I contacted the woman, told her my offer, and thankfully, she was very understanding about the situation. I gave her another puppy, and got Panda back. Right then and there, I thanked God for giving me the courage and motivation to talk to my friend. Without that persistence which pushed me to ask for Panda back, I would not be together with my best friend today," said Heart.
Aside from Panda, Heart also has an adopted PusPin, Mina, and another canine named Yogi.