One thing that Catriona Gray and Ice Seguerra have in common is that they once held the title of Little Miss Philippines as children, with the former bringing home the crown in 1999 and the latter in 1987.
While Catriona continued to pursue pageantry growing up — she won Miss World Philippines in 2016 and Miss Universe Philippines early this year before bringing pride to the country as the new Miss Universe last Monday — Ice has taken on a much different path, and focused more on his musical and acting career.
READ: Catriona Gray is Miss Universe 2018
What's more, Ice now identifies as a transgender man, and is married to Film Development Council of the Philippines chairman, Liza Diño.
With Catriona's recent victory, dozens of celebrities reacted, celebrated, and sent their best wishes to the new reigning queen—among them being Ice looking back on her younger days as Little Miss Philippines to make a funny commentary.
Along with a side-by-side photo of Catriona then and now, Ice wrote, "Nag-Little Miss Philippines pala sa Catriona, ako rin naman ah," ending with hashtags #anyare and #ibanglandas to imply how far apart their lives have been.
The singer also entertained a few comments from netizens. To a fan who goes by the username godarleen asking him where did things go differently, Ice replied that he dislikes being a beauty queen because he is in fact attracted to one.
"Ayoko maging beauty queen. Gusto ko ng beauty queen. Hehe," wrote the singer.
Meanwhile, Ice is positive that he could've also become the Miss Universe had only he continued with the career, as was his reply to another comment in jest.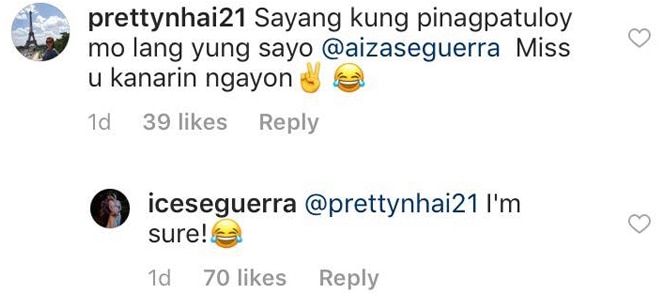 READ: Ice Seguerra explains why he changed his name
Aside from Catriona and Aiza, other celebrities who joined Little Miss Philippines were Camille Prats, Angelica Panganiban, Pauleen Luna, Julie Anne San Jose and Ryzza Mae Dizon.