Saab Magalona has had enough of people making unsolicited comments on her baby boy Pancho's weight.
In a tweet she shared last Wednesday, the singer and events host was prompted to clap back at a netizen who implied that her son should be put on proper diet.
"He is breastfed on demand with complementary homemade solids just once a day. Doctor's orders: more breastmilk because she wants him to grow taller," explained Saab of Pancho.
READ:Saab Magalona 'mom-shamed' for continuing to do gigs after giving birth
Francis Magalona's daughter then went on to make a special request from the commentator and for others who like to lecture her and husband Jim Bacarro on their parenting style.
"Please don't make me give a medical report with each baby photo," said Saab.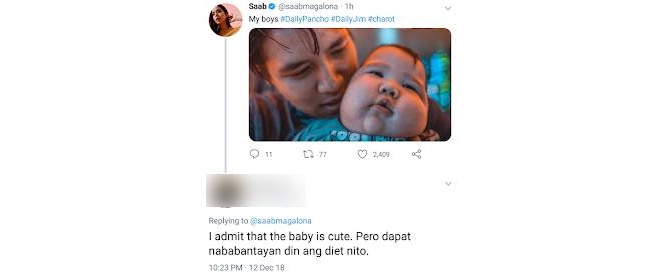 It was in February when Saab broke the news that she lost one of her twins, Luna, a baby girl, due to pregnancy complications. Fortunately, Pancho, despite being born premature and had to stay in the hospital for a month, survived.