A screenshot from an Instagram post of the 2015 Miss Universe Pia Wurtzbach has been circulating online with some netizens alluding that the photo wasn't as wholesome as it appeared to be.
The beauty queen posted a photo last October 11, showing her eating over a bathroom sink after the ABS-CBN Ball. A netizen took a screenshot of her post and zoomed in on a certain portion. In the comments section, it became apparent that they had put an apparently malicious spin on the photo, with one even altering the photo by pixelating Pia's gown
Pia took to Instagram stories and explained the photo's context. She wrote, "Relax guys! Ang dami dami namin sa room. It takes a village to do my glam and I also need their help to take these all off. Haha!"
Following another Instagram story, Pia thanked her glam team for their efforts making up her look. "Of course, di ako makakatulog with my wig and all this makeup on. Thanks to my photo/video and glam team for all your help! Love You all!"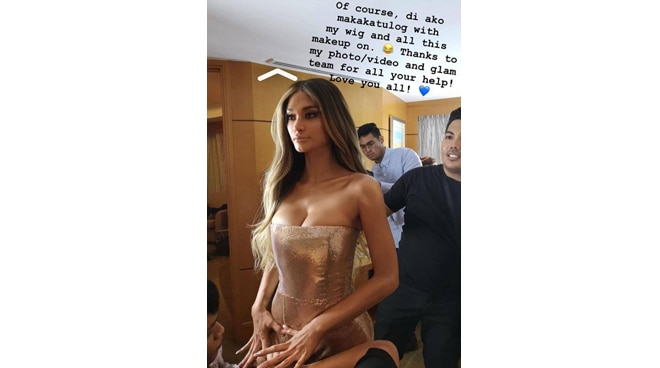 \
Netizens were surprised and amazed when Pia pulled off a Tyra Banks look at the ABS-CBN Ball.
READ: Style Stalker: Pia Wurtzbach's sun-kissed look stuns at the ABS-CBN Ball
In other news, Pia also announced some details of her upcoming movie project with Star Cinema.
READ MORE: Pia Wurtzbach teases upcoming movie project