Lea Salonga expressed her two cents over the recent social media breakdown of Senator Sherwin Gatchalian. The government official was in hot water after using foul words when he was replying to his critics on his personal Twitter account @stgatchalian.
Lea tweeted in response to the article posted by Rappler, "Oh dear. If you can't handle the heat, get out of the kitchen. Being a public figure means having to deal with haters and bashers from time to time, whether in person or on social media. Keeping the eyes on what's important is what keeps one sane through the craziness."
The singer shared her personal experience with bashers and remarked that she never let them won her over. "The stuff I've been called on social media through the years is enough to drive one crazy, but it hasn't. I won't let the haters and bashers win. Besides, there are more good people out there than not," Lea wrote.
According to Lea, may it serve as a lesson for public officials that opening a social media account will really test one's patience.
"Let this be a reminder to celebs, politicos, etc. on social media, only one degree of separation from everyone else. You're fair game the moment you open an account, and it can really test your patience and resolve," she said.
See Lea's tweets below: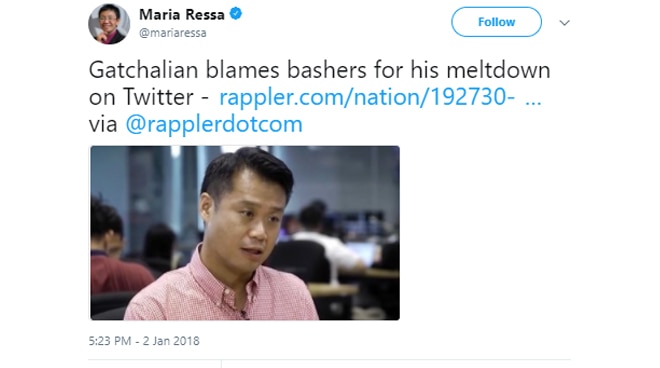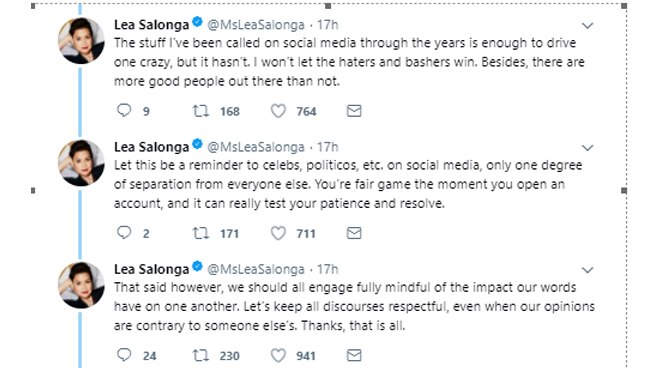 Image Courtesy: @mariaressa/@MsLeaSalonga