James Reid didn't let a basher slide when the latter accused him of letting critics lambast his girlfriend Nadine Lustre.
The netizen presumed that James had a "hidden agenda" for turning on the comments section of his Instagram posts, where Nadine was being hit with "foul words" that were "below-the-belt."
What's more is that the netizen accused James of making light of the fact that hatred and negativity were building up on his own account.
Furthermore, the netizen also pointed out that James is allegedly living up to the being "careless," in an obvious reference to Careless Music Manila, which produced James's latest album titled "Palm Dreams."
The netizen also wished Nadine to be "blessed with extreme patience and courage" for her to be able to "tolerate" her career and love life.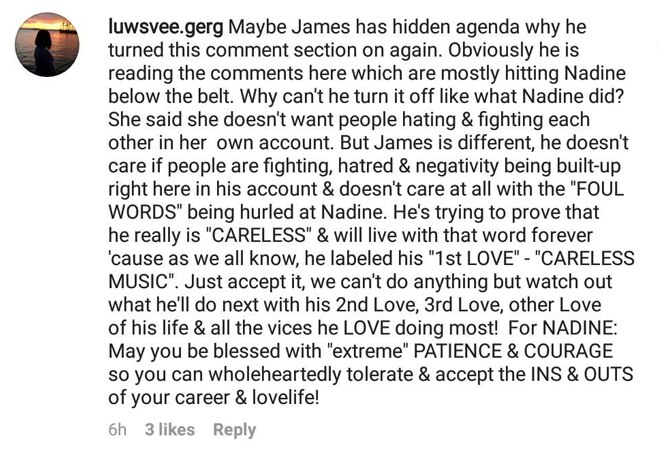 James answered the basher's bold accusations by saying that she "sounds crazy."
"You have no idea how strong Nadine is. It takes more than foul words to bring her down," he said on September 1, a day after he turned on the comments of his Instagram account.
Despite the basher's pointed words, James underscored that he and Nadine just take criticisms in stride.
"I don't tell people what to say. Say what you want. I can only do what I think is right. I think you give those bashers too much credit assuming Nadine and I even care about it…," he said.
James added, "One day I'll turn those bashers into lovers and if I can't then I feel sorry for them. Focus on the love."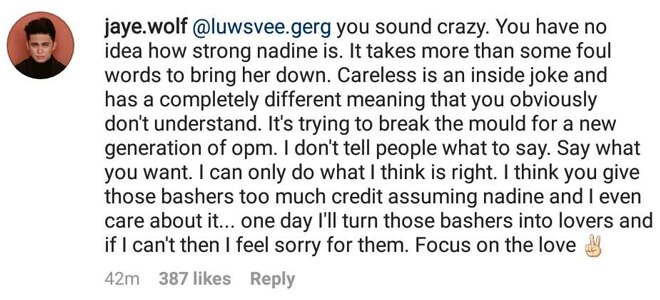 Meanwhile, James, in a separate comment, also expounded on his constant use of the word careless.

The actor-singer remarked, "Careless is an inside joke and has a completely different meaning that you obviously don't understand. It's trying to break the mould for a new generation of opm."
It may be recalled that James recently released his nine-track second album "Palm Dreams" which contains collaborations with his friends Sam Concepcion and Kiana Valenciano and even Nadine.