Like what the famous aphorism says, the more the merrier. Yes, it's nice to have someone who could be your ever-trustworthy confidant. But doesn't it feel greater and happier to have a bunch of good friends who you can be with through thick and thin? As we recently observed International Friendship Day, we believe that celebrating wonderful friendships should be done everyday, whether we are in our beloved squad's company or not. Here are some of the celebrity barkadas who could be your ultimate #SquadGoals.
It's Showtime family
They've been our lunch buddies for seven years now, filling our weekday and Sunday afternoons with good vibes and laughter since the show premiered in 2009. Although many elements of the show have changed, including the lineup of hosts, their genuine humor and rapport has not diminished as time goes by. From being mere co-workers, the noontime show's crew has become a family.
Banana Sundae BananaKada
More than the funny antics and jokes in every episode, the cast of the long-running gag show is also one big happy bunch. Though only a few pioneers are left, it seems that the rapport of the BananaKadas would never change.
Magandang Buhay momshies
The amazing trio has changed our weekday morning habits since they first aired last year. Started out as contenders in Season 1 of Your Face Sounds Familiar, Melai Cantiveros, Karla Estrada, and Jolina Magdangal's bond blossomed into a beautiful friendship on and off-cam.
The Champs Squad
Certainly, everyone would get envious with this group of champions from different singing competitions. These professional performers—Sarah Geronimo, Rachelle Ann Go, Yeng Constantino, Erik Santos, Mark Bautista, and Jed Madela—are really good friends who obviously enjoy music and still find time to hold their get-togethers.
BFF5 KikayKada
These fabulous and talented group never fails to stun with their groovy and glamorous performances every Sunday on ASAP. At very young ages, Ylona, Kira, Maris, Loisa, and Andrea prove that they're capable of keeping up with the same pace as other stars. They're the promising artists we should watch out for.
BoybandPH
Established through the reality singing competition Pinoy Boyband Superstar in late 2016, the five members of this all-male group emerged as the top grand finalists of the show. Even though they came from different walks of life and parts of the Philippines, it seems that the boys get along well. They make their fans swoon with their thrilling performances and funny quirks as shown on their YouTube channel.
Hashtags
Screams of fans are heard every time this group of handsome and talented guys takes to the It's Showtime stage or wherever they perform. Initially, there were only 11 of them in the group but early this year, the noontime show introduced eight more members. Since their introduction, they have garnered lots of fans. Some of them have even launched acting careers on TV and in movies.
GirlTrends
The female counterpart of the Hashtags, this throng of young, talented, and alluring girls sizzle every afternoon with their fiery production numbers on It's Showtime. Amidst some issues, the ladies have retained their sisterly love and close ties.
ASAP Chillout Team
Although it is just the spin-off of ASAP, Chillout's perennial hosts Alora Sasam, Robi Domingo, Alex Gonzaga, Sue Ramirez, Diego Loyzaga, and Darren Espanto have filled the digital segment with good vibes and laughter through their wacky remarks and interviews with their guests and their enthusiastic acceptance of challenges in each episode.
ASAP Birit Queens
Belting out high notes seems easy for the mesmerizing and talented foursome—Angeline Quinto, Jona Viray, Morisette Amon, and Klarisse de Guzman—as they flawlessly give us powerful performances every Sunday in ASAP. More than that, they've also developed a strong bond as friends that contributes to their breathtaking performances each week. Indeed, a #SquadGoal like no other.
The MYX Gang
Even though they came from different paths and are of different ages, the hosts of MYX have a common ground in music. Some may not have the singing voice like the artists they feature in their shows, but all of them are great aficionados of music. And it looks like the camaraderie among the VJs is for real as they really get along well on and off-cam. Isn't it great to be in a clique where despite differences, you can share the same interests?
Comedy Clique
Presumably, there's no space for bad vibes with the admirable foursome of Pokwang, K Brosas, Pooh, and Chokoleit as these comedians and comediennes could just laugh their problems out. And good thing, they share the fun of their friendship with us. Being surrounded by people who would fully embrace you no matter who you are and who will help you get through of all the struggles is indeed the best feeling in the world.
Gerald Anderson and friends
Gerald Anderson and his bunch of guy friends are such a nice sight to behold. In and out of the limelight, their tight bond is constant, as shown in their trips and get-togethers and the way they support each other's causes. Just like how they showed their unwavering support to Gerald's outreach program for the wounded Marawi soldiers and his foundation.
KissMarc x MayWard
After they stepped out from the Pinoy Big Brother house, the camaraderie between housemates Kisses Delavin, Marco Gallo, MayMay Entrata, and Edward Barber has remained. Even if they may be busy with their respective projects, the four ex-teen housemates enjoy every moment they share together.
It Girls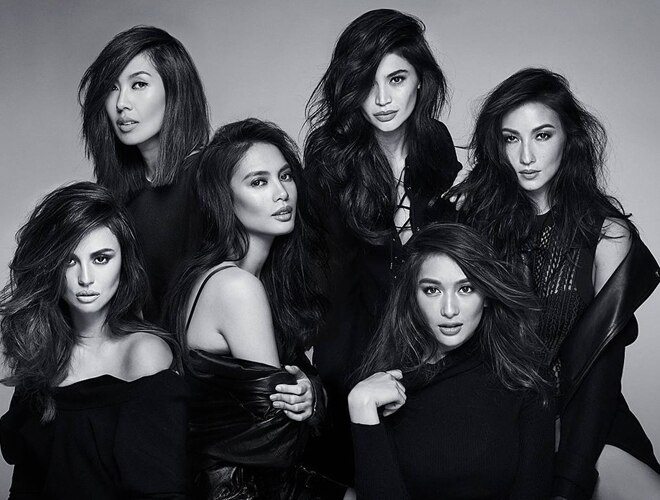 Speaking of celebrity squads, who would forget this squad of "It Girls"? Although some of them already settled down, the closeness of Anne Curtis, Georgina Wilson, Solenn Heussaff, Isabelle Daza, Liz Uy, and Bea Soriano has remained the same, even if they may be a bit wackier with their respective beaus. From fashion to fitness, these ladies are indeed our ultimate #SquadGoals