Kris Aquino answered a netizen who accused her of stealing the spotlight away from book author Kevin Kwan during his meet and greet that she hosted last August 27 in a mall in Cebu.
Kevin is the author of Crazy, Rich Asians whose movie adaptation will star Kris.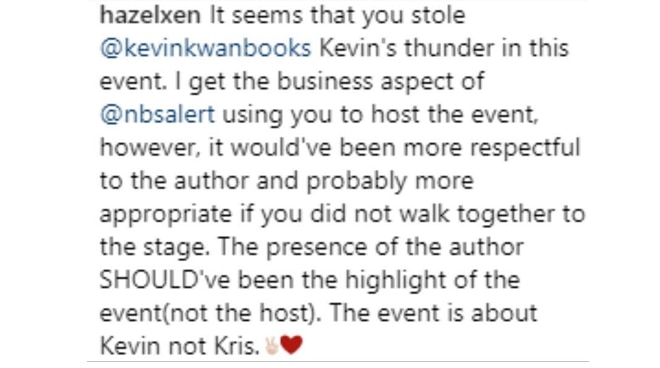 Photo grab from Cosmo.ph
The basher said, "It seems that you stole Kevin's thunder in this event. I get the business aspect of (National Bookstore) using you to host the event, however, it would've been more respectful to the author and probably more appropriate if you did not walk together to the stage. The presence of the author SHOULD've (sic) been the highlight of the event (not the host). The event is about Kevin not Kris."
Kris then fired back, "Girl I totally refuse to let you ruin what was a happy & successful event & please don't cop out your negativity w/ a peace sign- stand by your mean spiritedness. (Kevin) had no issues & we had a lovely dinner & are having brunch before our flight."
Photo grab from Cosmo.ph
Consequently, Kris shared more of her unforgettable experiences with Kevin on Instagram.