Rumored couple Kiray Celis and model Kirst Viray stirred up the curiosity of some netizens on Monday, August 28, after the former unfollowed the latter on Instagram.
This became especially noticeable since Kiray had Kirst as the sole person that she was following on the said social media application.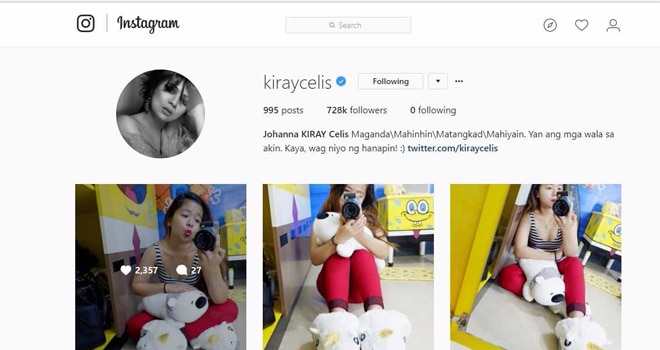 What's more is that Kiray changed the name of their YouTube channel. From Kiray and Viray, the YouTube channel now only has her name on it.

Although known for having "hugot" captions, the young comedienne further got her followers curious after posting cryptic captions on her recent photos. In one photo she glossed over the topic of deception and on another she talked about accepting things that are now over.
Kirst, for his part, also accompanied his post with a cryptic caption that said he was now "freeeti." His followers were quick to assume that the post pertained to the ending of his rumored romance with Kiray.
Kiray and Kirst made headlines last February as a rumored couple after being spotted "dating" on Valentine's Day. https://push.abs-cbn.com/2017/2/21/fresh-scoops/kirayandviray-netizens-abuzz-over-kiray-celis-vale-142613
Both Kiray and Kirst, however, did not confirm nor deny that they were in a relationship.