Budding singer Claudia Barretto's recent statement didn't sit well with her aunt Gretchen Barretto prompting the latter to react.
During the recent launch of her single "Stay," Claudia, who is the sister of A Love to Last star Julia Barretto, was asked as to whether or not she's ready to be compared to her aunt Gretchen.
Aside from being an actress, Gretchen also previously ventured into the recording scene in 2009 with her album "Complicated."
To this, Claudia said in a video released by Chikkaness Ave, "I think we're very different naman, like our songs and our voice. I think it's different."
She continued, "I don't mind. I mean it's nice to know that someone else actually sings..."
Gretchen's reaction
The older Barretto was anything but pleased with the statement of the daughter of her younger sister Marjorie Barretto.
It all started after a certain netizen on Instagram with the username unlovegf asked Gretchen if she had seen Claudia's recent interview

Gretchen responded to the said question and pointed out that she has been nothing but helpful to Claudia and all the other kids of her sister Marjorie.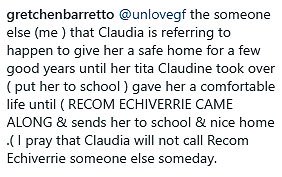 The said netizen repeated the question on Gretchen's other post.

The actress once again took the time to answer the said question. She even spewed out some strong words for her niece.

Gretchen's previous posts have revealed her closeness to Claudia. Even Gretchen's unica hija Dominique used to be very close with Julia's younger sister.