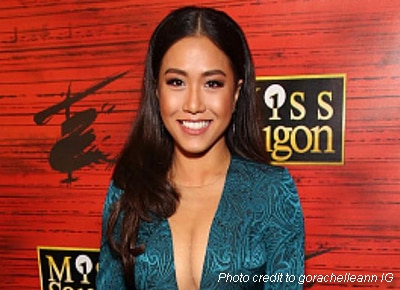 Broadway star Rachelle Ann Go got netizens buzzing after posting a photo of herself in the arms of a male foreigner on her Instagram account.
Rachelle's post on April 23 has already garnered over 7,100 likes and some 125 comments as of this writing.
The Miss Saigon star's friend Nikki Gil was among the many commenters on the said photo.
One of the followers tagged a certain Martin Spies on the singer-actress's photo outside the Richard Rodgers Theater in New York, while seemingly in queue to watch the hit Broadway production of Hamilton.
While she has not revealed anything about him, many were quick to assume that he was her new flame, particularly since he's been a figure on Rachelle Ann's social networking account for weeks now.
The actress posted a photo of themselves sightseeing with friends two weeks ago.
Some four weeks ago, meanwhile, she posted a photo of themselves at what appeared to be a black tie event.
Rachelle's friend and ASAP performer Kyla even left a comment on the aforementioned photo.

According to business-and-employment social networking website LinkedIn, New York-based Martin is currently the general manager of the American luxury fitness company Equinox.
He graduated from the University of Florida with degree in Business Administration major in Finance and has worked in the flagship store of the American clothing brand Abercrombie & Fitch.
After debuting in the West End scene in 2014 via her role Gigi in Miss Saigon, Rachelle Ann reprised the role on Broadway last March.
Apart from that, Rachelle is set to be part of the West End production of the well-received Broadway musical Hamilton.