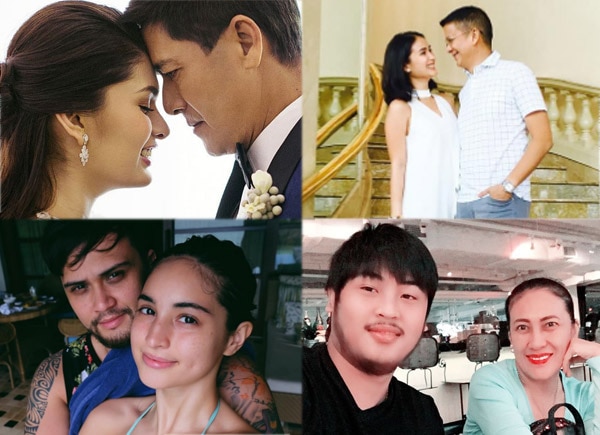 Not only do these celebrity couples prove that age doesn't matter when it comes to love, but they also prove that their kind of love can be strong enough to last a lifetime.
1. Vic Sotto and Pauleen Luna
When Vic, 62, and Pauleen, 28, publicly admitted to their relationship, many laughed at the idea of the two being a couple. After all, it was Vic who interviewed Pauleen when she joined Little Miss Philippines on Eat Bulaga when she was a little girl.
The two started dating in 2011, but Vic only admitted his relationship with Pauleen two years later.
Even with more than a 30-year gap between their ages, the two have stayed strong as a couple and finally tied the knot last January 30, 2016.
2. Eula Valdez and Rocky Salumbides
In 2009, Rocky admitted his relationship with "Amor Powers" inside the Pinoy Big Brother house. Now, the two are already seven years into their relationship. Eula is 48 years old and Rocky, actor and model, is 36.
In one of her interviews, Eula said her relationship with Rocky stays strong and happy. He also gets along well with her kids.
3. Heart Evangelista and Chiz Escudero
Heart, 32, and Chiz, 47, met through the matchmaking skills of Senator Miriam Santiago. They officially became a couple in July of 2012. In 2013, the couplehad a painful and controversial falling out with Heart's parents.
However, this trial in their relationship only made them, in Senator Chiz's words, "stronger."
Heart has since reconciled with her parents.
The couple got married on February 15, 2015. Sadly though, Heart's parents were absent during their daughter's wedding and they weren't able to walk Heart down the aisle.
4. Vicki Belo and Hayden Kho
The on and off relationship of Vicki, 61, and Hayden, 36, has been going on for 11 years.
In 2007, Hayden figured into what was dubbed by CNN as the "No.1 most controversial sex scandal in Asia," which not only robbed him of his license to practice medicine but also ended his relationship with Vicki that time.
However, the two have since gotten back together and now they are tougher and happier as a couple. The two recently introduced their baby Scarlet Snow to the public.
5. Ai-Ai Delas Alas and Gerald Sibayan
Ai-Ai, 52, met Gerald, 23, through her son Sancho. When the two met, Sancho was studying at the De La Salle University where Gerald was a badminton player. Gerald was, at that time, taking up Sports Management at DLSU.
Gerald admitted to their relationship in September of 2014.
Unlike her past relationships, Ai-Ai chooses to be somewhat mum about her relationship with Gerald. However, she disclosed that there have been talks about marriage between them. She also said Gerald is not using her.
Ai-Ai's children, especially Sancho, get along well with Gerald.
6. Aiko Melendez and Shahin Alimirzapour
Aiko, 40, introduced to the public her boyfriend Shahin, 28, via a photo of them together on her Instagram account. The caption read, "Starting a new story and journey with [Alimirzapour]. No explanation needed."
Shahin is a businessman of Iranian descent. Aiko said he makes her laugh and he was the one who made an effort to pursue her.
However, last September, Shahin told Pep.ph that they are taking a break at the heels of Aiko's Instagram post with the caption, "#singlesnightOUT."
Aiko was previously married to actor Jomari Yllana and to model Martin Jickain. Both marriages have been annulled.
7. Billy Crawford and Coleen Garcia
When Billy, 34, and then girlfriend Nikki Gil broke up in July, 2013, people pointed a finger at Coleen, 24, as being the third party. Rumors only grew when Billy and Coleen confirmed being officially a couple in July of 2014.
The two have stayed happy since and in their interviews, both Billy and Coleen say don't regret having fought for each other. In one interview, Coleen said, "It was all worth it."
The two got engaged last December.
8. Mommy Dionisia Pacquiao and Michael Yamson
In 2014, Mommy D, 67, admitted she was in a relationship with Michael, 42. They met in a sing-along birthday party.
A 2015 interview with her son Sen. Manny Pacquiao revealed that the two are already living together. Manny, however, has been vocal that while he wants his mom to be happy, he is against the idea of her marrying again. Manny said Mommy D is still married to the first man she was with (not to Manny's dad), and her legal husband is still alive.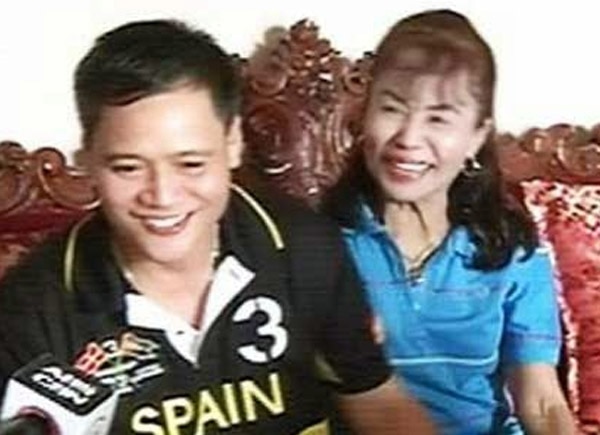 9. Assunta de Rossi and Jules Ledesma
In 2002, Assunta de Rossi got hitched to Negros Occidental Representative Jules Ledesma. Assunta was only 19 years old at that time and Jules was 41.
In 2014, rumors of Jules (now 56) and Assunta's separation surfaced but Assunta (now 36) said there was no truth to the rumor.