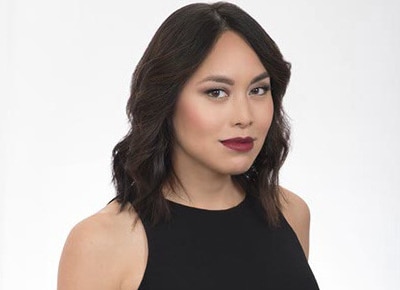 Ivory Aquino (Image Group LA/ABC)
A flourishing Hollywood career is one that a few tread.
Moreso for a Filipina transgender artist, it becomes a journey all the more triumphant and fulfilling.
With Ivory Aquino sharing credits with an ensemble cast of A-listers in the major ABC mini-series When We Rise, the acclaim and achievement are both monumental for what she represents—the changing tide towards inclusion, diversity and the growing appreciation for Asian, notably Filipino, talent and recognition for transgender people.
When We Rise is a retelling of the gay rights movement in America, which offered this ultimate opportunity for Ivory to live her dream. That is actually playing a transgender role befitting her own real journey as a person.
"Sharing her story"
Ivory stresses it quite succinctly: it's like "sharing her story."
"I haven't really talked about my personal history until now because frankly, there was never a reason to. I'm a live-in-the-moment type of person," Ivory tells Push in an exclusive e-mail interview. "What changed my mind in terms of sharing my story with the public was the importance of 'When We Rise' in terms of telling diverse stories to hopefully show that the LGBTQ community has a lot more in common with other communities in that we all desire the same things: love for and from our families, love for and from a life partner, love for one's vocation and wanting to contribute to society through a meaningful life."
Ivory, a Berklee College of Music graduate, first set foot in the US at age 18 from the Philippines after graduating from the Ateneo High School to pursue her passion in the theater arts.
She took non-gender-specific or cisgender roles in noteworthy stage productions, particularly her unforgettable Juliet in Bryant Park Shakespeare.
Monumental opportunity
And then, the most monumental opportunity came: actually playing the role of a transgender activist in the ongoing primetime miniseries on the major US TV network, ABC.
"In my career, I had yet to play a trans character and said I was interested in playing a trans woman who was more than a stereotype, someone who was representative of the community in being three-dimensional and hopefully, would contribute positively to how trans women are depicted in film." Ivory stressed.
She then received a casting call for the role of Cecilia Chung in the series, playing the role of a real-life LGBTQ activist who, like her, is an immigrant.
Ivory Aquino as Cecilia Chung in When We Rise (Eike Schroter/ABC)
"I auditioned two days later for the show's casting director with four scenes they had me prepare. A few days later, my intuition told me to write the casting director a note letting her know my gender history. Coincidentally or not, I got asked the following day to do a callback audition, which consisted of learning a fifth scene. I had one day to prepare and did all five scenes. A couple days later, I was informed that I was up for network approval where I believe the network executives all watched my audition tape, and a few days later, I got the job," Ivory recalled.
Ivory revealed that the show's creator Dustin Lance Black had no idea she was a transgender when he saw her audition tape. "He didn't know I was trans when he saw my tape. He said it was only when we were on the phone for the first time and I shared with him my gender history, that he knew," she noted.
"Pinch my cheeks"
She said that when she learned who her co-cast members were, she "literally had to pinch my cheeks."
"When I found out who was in the cast namely Guy Pearce, Mary-Louise Parker, Rachel Griffiths, Michael K. Williams, Whoopi Goldberg, Rosie O'Donnell, just to name a few, and that the directors included Gus Van Sant who is a two-time Oscar nominee, and Thomas Schlamme who created the West Wing with Aaron Sorkin and is a multiple Emmy winner, and Dustin Lance Black who is an Oscar winner, and Dee Rees whose work and film 'Pariah' I have been a fan of, I literally had to pinch my cheeks."
But when she got down to business, Ivory said she was passionately driven.
"Once I got on set and my focus was on doing the best job I could in terms of telling Cecilia's story, all these amazing artists became my colleagues as we were all committed to telling all these touching stories intertwined," she said.
With her own "rise," Ivory is dubbed by Hollywood Reporter as Hollywood's "Next Big Thing."
"It's truly very flattering to be called that. It's not a term that I've coined for myself, so there's no added pressure on my part to pursue things any differently from how I've done these past years, which is to follow my gut and intuition in terms of choosing projects. For me, the simple guideline is, "Does this excite me as an artist?" So I'll keep following my joy and trust it leads me to do work that's meant for me," she added.