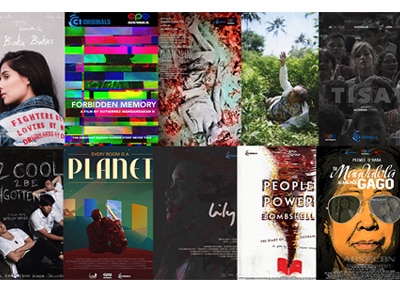 Relive the Cinema One Originals film festival experience and get to watch some of its critically-acclaimed and award-winning films at the Cine Adarna of the University of the Philippines Film Institute in Diliman from January 13 to January 24.
To be featured in the special screening are some of the best films from the Cinema One Originals Film Festival 2014, 2015, and 2016.
Ralston G. Jover's "Hamog" (2015), a Cinema One Originals youth noir that won the Best Actress Award at the Main Competition of the 38th Moscow International Film Festival, opens the special screening tomorrow (Jan 13) at 2:30 PM.
Venice International Film Festival's Golden Lion winner "Ang Babaeng Humayo" also has a one-time only screening this Saturday (Jan 14) at 2:30 PM. The Cinema One Originals-produced film directed by Lav Diaz and topbilled by Charo Santos, made history as the first Filipino film to win the prestigious award at the world's oldest film festival. The film was also recently nominated for three awards (Best Director, Best Screenplay, Best Actress) at the 11th Asian Film Awards.
Film enthusiasts who missed this year's Cinema One Originals Film Festival will also get the chance to watch all entries, led by Petersen Vargas' dark high school comedy "2 Cool 2 Be 4gotten" (2016), which bagged three awards including Best Picture. It will be shown on Monday (Jan 16) back-to-back with Samantha Lee's millennial LGBT love story and Audience Choice awardee, "Baka Bukas" (2016).
Other Cinema One Originals films to be screened are Kanakan Balintagos' "Esprit de Corps" (2014), Carl Joseph Papa's "Manang Biring" (2015), Ara Chawdhury's "Miss Bulalacao" (2015), Sherad Anthony Sanchez's "Salvage" (2015), Bor Ocampo's "Dayang Asu" (2015), Keith Deligero's "I" (2016), Teng Mangansakan's "I" (2016), Gym Lumbera & Paolo Picones' "Piding" (2016), Borgy Torres' "Tisay" (2016), Jose Abdel Langit's "Malinak Ya Labi" (2016), Malay Javier's "Every Room is a Planet" (2016), Jules Katanyag's "Magdalola at ang mga Gago" (2016), and John Torres' "People Power Bombshell" (2016).
This special film exhibition is open to the public. Tickets are available for only P150, and screening times are 2:30 PM, 5:00 PM, and 7:30 PM
Don't miss this Cinema One Originals screenings in UP's Cine Adarna from January 13 until January 24.
For the special screening's complete schedule, information and updates, visit the Cinema One Official Facebook site (facebook.com/Cinema1channel) and follow the official Cinema One Instagram account (@cinemaonechannel).