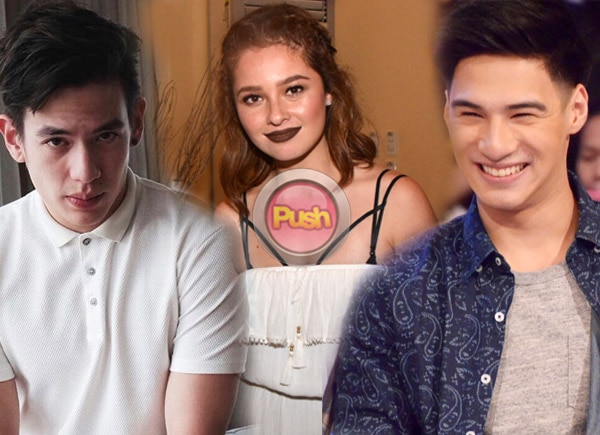 After five years of public speculation, the identity of the biological father of Andi Eigenmann's unica hija Amanda Gabrielle or simply Ellie has finally been unveiled.
According to Andi's sister, Max Eigenmann, it was none other than her former flame Jake Ejercito who is Ellie's real father.
But before that revelation, the saga between Jake and Andi and her former boyfriend Albie Casiño dragged on for years.
How did it all begin anyway? Who got involved into the fray? Did Jake or Andi give any telling signs along the way?
In order to answer those questions, Push looks into the "baby daddy" saga that has puzzled and engrossed the public for the last five years.
May 2011
Andi gets branded a "cheater" by then boyfriend Albie Casiño.
June 2011
Rumors about Andi's pregnancy commenced.
Jaclyn Jose, Andi's mother, confirmed that her daughter was pregnant, but refused to name the father of the child.
Mark Gil, Andi's father, claimed that the father of his daughter's child physically abuses her.
Around that time, the names of Andi's boyfriend Albie naturally came up as well as that of Jake Ejercito's who is the son of former President Joseph "Erap" Estrada with actress Laarni Enriquez.
Albie's mother Rina Casiño was quoted as saying that she has no issues if the baby was her son's because after all it's a "blessing." However she stressed that a DNA test ought to be done to confirm it.
September 2011
Andi named albie as the father via a blog post, which she titled The Good That Won't Come Out Chapter: Deux.
Jaclyn said she doesn't want anything to do with the father of her granddaughter. She even stressed that they would not allow any DNA test to take place.
Andi came to an event of her Kuya Gabby Eigenmann with her then rumored boyfriend Jake.
October 2011
Before she gave birth, Andi said she's not as emotional as other soon-to-be-moms. Asked if she has already "forgiven" the father, Andi said she has yet to do it only because nobody was asking for forgiveness.
November 2011
Andi gives birth to a baby girl via Cesarean section whom she named Adrianna Gabriellie o Ellie.
January 2012
Andi admitted that she and Jake are still dating but opted to keep mum on the issue so he would not be dragged into her pregnancy issue. At that time, they were in a long distance relationship since Jake was studying in London.


May 2012

Andi and Albie's paths crossed at a bar in Makati and all hell broke loose as the former threw wine on the latter's face. But the following day, Albie hogged headlines for being beaten up just outside the bar where he saw Andi. Albie's mother Rina had it recorded in the police blotter immediately after the incident.
Andi in an interview over that weekend claimed that she didn't slap Albie. According to her, Albie was the one who hurt her and spewed poisonous words towards her, which prompted her to throw wine in his face.
Albie, for his part, maintained that Andi slapped him and that she was responsible for his beating.
June 2012
Despite the bar fiasco, Andi remained positive that Albie would eventually accept their child. However, she maintained that she won't force him to accept Ellie.
July 2012
Rumors that Albie was dating someone made rounds and Andi stressed that, without sounding bitter, she didn't really care about it.
Although she was single at that time, Andi said she has an inspiration and doesn't wish to be associated with Albie.
November 2012
Jaclyn shocks the public with her presupposition that Jake's parents disapprove of her daughter's brewing romance. The seasoned star even asked Jake's parents to just "let them fall in love."
After that comment, Andi immediately took to her blog to apologize to Jake's family about for her mother, saying that she understands where his parents are coming from and that she intends to "prove them wrong." She also confirmed that having a relationship with Jake, at that time, is "bawal." Her mother's comment led to their spat.
After Andi's post, Jake admitted that he was slighted by Jaclyn's revelation as it has put his parents in the bad light. Jake likewise shared that his mother Laarni got hurt after finding out that she had gotten back with Albie after having a fight with him. To make matters worse, Andi was pregnant when he came back to the country.
He admitted at that point that he did fall hard for Andi but he said he doesn't feel "the same" anymore. He likewise mulled the idea about being the father of Ellie but immediately dismissed it saying that it was "impossible."
Though hurt by his comments, Andi shared that she knew about it ahead of time and that Jake even apologized for it. But she pointed out that Jake shouldn't have done that especially since she was the celebrity between the two of them.
February 2013
Andi belied rumors that they have gotten together despite claims that they were seen watching a movie together. But she did confirm that she still loves Jake but said she's not out to make any more efforts to win him back.
March 2013
Andi went to London for a vacation but since Jake was based there the rumor mill said that she came to the city to get back with him. This was something that Andi belied, saying that she has long wanted to visit the city.
April 2013
Jake returned to the country for a semestral break to campaign for his father, who was then running as Manila mayor and for his niece who was running as a councilor in San Juan.
Although they still talk to each other as friends, Jake presumed that it's already "the end" for both of them. At this point he revealed that he has met Ellie but that he doesn't see her all the time. According to him, he doesn't even know if Ellie knows him.
May 2013
After two years on hiatus, Albie was returned to the limelight as part of a TV5 show. At this point, Albie said that what he went through the past years, after being bashed and named as Andi's "baby daddy" caused him to mature faster than expected.
August 2013
While she was evasive about confirming whether or not they have gotten back together, Andi admitted she gets jealous over the girls that are being linked to Jake who at that time was Coleen Garcia.
Andi and Jake's photos were seen all over social media prompting the netizens to ask whether they have gotten back together. Although the two have been mum, it was Jaclyn who broke the news to the public that they had gotten back together. She even pointed out that Andi must learn from her mistakes, in the event that she commits them again.
October 2013
With Albie back in the acting scene, Andi was asked as to the possibility of mending ties with her former boyfriend, to which she said, that she sees no need to rekindle ties with him.
But she did confirm that Albie had apologized to her "last year" and that she has accepted his apology because after all, according to her, nobody knows him like she does.
January 2014
Despite claiming earlier that Albie had apologized to her, rumors continued to make rounds that he didn't want to be connected to anything related to Andi. To this, she said that she understands where he is coming from even saying that "he is not a bad person."
Andi insinuated that it was Albie's mother Rina, who was poisoning his mind. It even came to a point when Andi said that she's willing for her daughter Ellie to meet her "father" Albie if her daughter wishes to. But, she specifically cited that she wants only Albie to meet Ellie, sans his parents.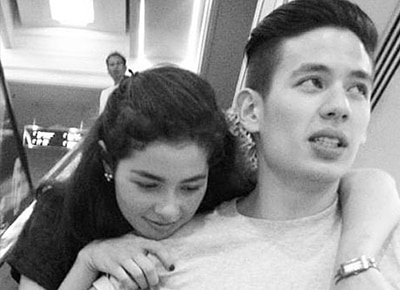 February 2014
Days before Valentine's Day, Andi maintained that she and Jake were still "friends." However, she turned evasive after being asked whether or not they have plans of changing their status anytime soon.
March 2014
Jake, for his part, also became mum about their status since it gets "misunderstood" most of the time. The best way to describe what they have is that "what you see is what you get."
Amid their seemingly "contradicting statements," Andi explained that Jake is not part of showbiz which is why he is not obliged to open up his life to the public. While she apologized for the confusion that their statements are causing people, Andi maintained that they are at a "what you see is what you get" phase following the fact that they have been constant figures in each other's social media accounts.
April 2014
Albie claimed that he has not seen Ellie in person or even her photo, even if Andi was claiming that he was her father. Although Andi expressed openness to let Albie meet Ellie, the hunky actor said, that at that time, he had no plans of doing so. He even refused to comment on Andi's then-rumored romance with Jake.
September 2014
Andi's father Mark Gil passed away due to liver cancer.
Weeks later, Andi confirmed that she and Jake have also parted ways saying that, although it was painful, she wants to focus on more important things at that time.
At this point, a photo of Jake kissing a girl made rounds online. Eventually the woman was identified to be socialite KC del Rosario.
A few days after Andi's confirmation, Jake took to his Twitter account to explain that he has already apologized for the incident saying that his only mistake was allowing the "slip up" to happen.
"Andi was the only girl I loved for four years and still is my greatest love. Before the incident, I discovered something that hit me like a truck. I am certainly not using it as an excuse, but it had a lot of bearing on how I reacted," he wrote.
Andi then explained that the reason why she and Jake broke up was because he wasn't on her side when her father was rushed to the hospital. According to her, it was in the middle of that incident when she realized that she should start thinking of herself and coincidentally she also met former Pinoy Big Brother housemate Bret Jackson.
Andi and Bret were even spotted together at an event where he confirmed that he is courting her amid rumors of being a "rebound" for Jake.
Jake posted a photo of himself with Ellie on his Instagram account for the first time, which contained a greeting that went "Happy birthday to this sweet little princess! Stay an angel, my love!"
While she was pleased over that post, Andi maintained, "it doesn't mean anything." She explained that Jake's relationship with Ellie is something that is beyond her and that was purely for her daughter.
December 2014
Jake posted a photo with his rumored flame KC, which got him bashed by those supporting his past relationship with Andi.
The actress shared that, while there was no overlap between her and Jake's relationship with KC, she has already seen text message exchanges of the two. According to her she already had a hunch that they have "something" but what she didn't expect was that they would become an item immediately after they parted ways.
She also admitted that she was "hurting so much" about his newfound romance even if she has nothing against them becoming an item.
A few days later, Andi posted a photo of a quote about moving on and another one with her late father with the quote "I lost the only man I know will love me truly. Will forgive me for all my mistakes. I should've made our last days together more worth it. I miss you dad."
January 2015
Rumors that KC and Jake's romance was over made rounds after fans noticed that the two deleted each other's photos on their respective Instagram accounts. A post on KC's Tumblr account lamented about giving her all yet not still feeling enough. Many thought that she was pertaining to Jake but a certain commenter noted that the post must be for her model ex-boyfriend.
After that rumors, Jake expressed positivity about patching things up with Andi citing that "time heals everything naman."
A few days after Jake's comment, a disbelieving Andi said that his actions are contradicting what he said to the press. While she hopes that everything would be okay for them, Andi stressed that she is still hurting and that she is uncertain if they could get back together again.
As for Bret, Andi said that Bret remained consistent in wooing her but she points out that she wants to take things slow after only having gotten out of a serious relationship.
Later that month, Andi revealed via a tweet that she and Jake have already patched things up after being spotted together in Singapore for a music festival
February 2015
Talks about Jake as Ellie's father became stronger following his consistent posting of their photos together on his Instagram account.
Coincidentally, Albie, the Ellie's supposed father, commented on the paternity issue. "If you have a secret, you can't keep it hidden forever." At this point, Albie confirmed that he did not undergo a DNA test to confirm the paternity of Andi's daughter. He likewise shared that he hasn't seen Ellie in person even until that time.
At a separate event, Albie confidently said that there's no verifiable proof that he was Ellie's father and if anything, it was "If there's one constant, Jake's always there." He even went as far as saying that he thinks that Jake is Ellie's biological father.
Jake considers Albie's statements about Ellie's paternity as "desperate showbiz promo ploys."
July 2015
Albie marked his return to ABS-CBN after four years as part of the cast of the then upcoming primetime soap On The Wings of Love. Albie's last project with the network was the remake of the soap Mara Clara together with Kathryn Bernardo and Julia Montes.
November 2015
An exasperated Andi blurted out that her disappointment over the fact that Albie continued to talk about Ellie's paternity or "an issue that he's not part of" when their family did even came up to him to ask for any help.
At this point, Andi also claimed that Jake is the "father" of her daughter after showing so much love for Ellie even though they have broken up almost a year ago. According to her, Jake and Ellie are "super close" and that she doesn't see any reason to stop him form that.
Albie, for his part, refuted Andi's claim that he's using the issue saying that he never even granted an interview and has always kept his mouth shut.
Andi underscored that being a father need not be biological and that she doesn't mind if people are thinking that Jake is Ellie's "father."
"What matters is who has been there from the very beginning, which is why Jake is the father," said Andi, who also shared that she appreciates Jakes closeness to Ellie.
March 2016
Jaclyn had been very vocal about liking Jake and, according to her, she actually considers him as Ellie's father.
To this, a grateful Jake said he appreciates his past efforts when he and Andi were still a couple.
"Well, ever since, I considered Ellie as my daughter na rin. Yun nga yung sabi ni Andi in one of her interviews, di ba? And kasi si Ellie, very adorable. Mahirap mawala yung bond namin," he said.
Jake eventually joined showbiz as part of GMA's Eat Bulaga and he became more visible in showbiz. But he maintained that he and Andi are just friends despite being spotted vacationing together in Cebu. At that time, Jake confirmed that he and Andi have parted ways for almost two years.
August 2016
Andi echoed Jake's earlier statement saying that there's no more chance to reconcile but that they still remain friends.
At this point, she also confirmed rumors that she is already seeing someone new in the person of surfer Emilio Arambulo.
Andi and Jake made headlines anew after their heated Twitter exchange, which started when the latter posted about "being used" for promo by the former.
Andi, fierce as ever, launched a Twitter tirade on Jake, which resulted to her calling him "fake" and "talentless."
Late August, Andi shocked the public by revealing that she is now on good terms with Albie, a fact, which the actor also confirmed and by saying that she's now bent on not speaking with Jake ever again.
September 2016
Andi's sister Max casually confirms that Jake is Ellie's biological father via a guest appearance on Good Times with Mo.