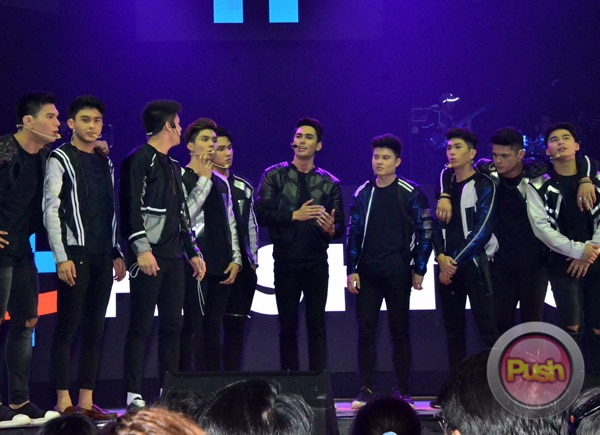 Less than a year since being introduced to the public as It's Showtime's Kilig Ambassadors, The Hashtags was able to tick yet another feat off of their list.
After a well-received album, the all-male dance group conquered the KIA Theater Stage last September 24 for their first-ever, sold out concert titled Hashtags: The Road Trip Concert.
The Hashtags' concert wasn't a perfect concert, amid the legions of shrieking fans of ladies and ladies-at-heart that trooped to the venue, but nevertheless, it did display a number of notable highlights, which their fans surely loved.
1. Showcase of talents
Aside from dancing and hosting, which their fans were able to commonly witness on their daily appearances on It's Showtime, the boys brought out their best-kept individual talents. In a way, their own spots have allowed them to shine individually and to showcase the other things that they can offer.
Nikko Natividad, the group's clown, brought in his co Pinoy Big Brother Lucky 7 housemate Nonong Ballinan for a comedy act.
McCoy de Leon showed his rad dance moves through his break dancing spot.
Jameson Blake, meanwhile, wowed the crowd with his beatboxing skills.
Ryle Santiago, was in a league of his own, as he was the only one who used a guitar and a pedal looper for his spot.
Jimboy Martin shared his much-improved rapping skills with GirlTrends member Mica Javier on vocals.
Ronnie Alonte showcased his singing and dancing skills, along with his drum playing skills.
Zeus Collins for his part leveled up his performance by doing a mirror dance with former PBB Housemate Mickey Perz.
Luke Conde, Paulo Angeles, Jon Lucas and Tom Doromal, all showed that they could also sing well while dancing at the same time.
2. PBB Lucky 7 Teen Housemates
After taking on a few dance lessons from some of the Hashtags' members, the PBB Lucky 7 housemates also made it a point to be part of the boys' concert much to the audience's delight.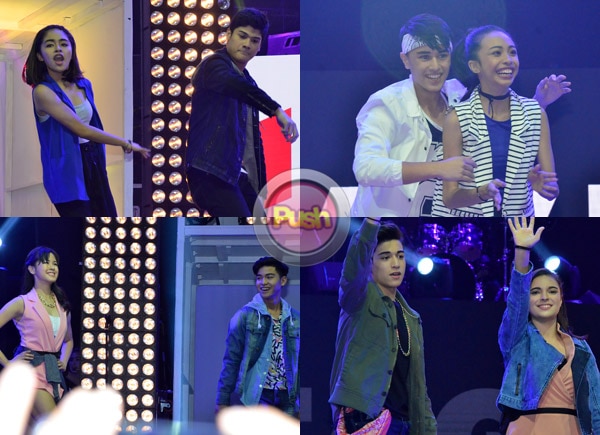 3. Show effects
Having 11 boys as performers, on top of their guests, was truly a Herculean task. With that the show has employed special effects in order for the show to become more entertaining.
The show had a "randomizer" machine that picked out the order of the boys' solo performances. This has increased the fans' excitement as to which of their favorites would perform next.
One part of the show used a dance video simulation technique similar to Beyonce's 2011 Bilboard Awards performance of her hit "Run the World."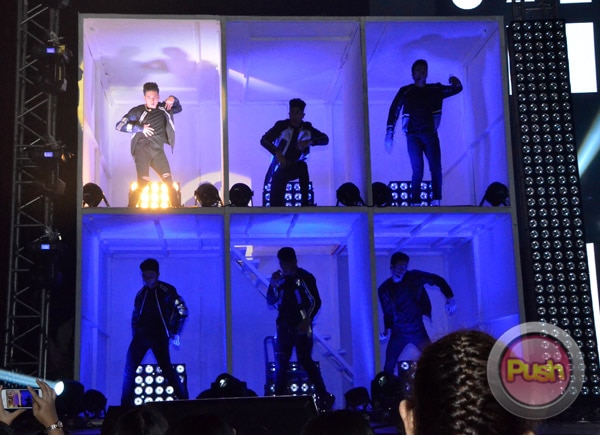 4. Special guests
The boys had special guests, who had been part of their almost one-year journey.
There's their idol, dance princess Maja Salvador and the composer of their song "Road Trip" Yeng Constantino.
Their "counterparts" known as the Junior Hashtags also dominated the stage.
But it was their performance with their co-It's Showtime performers known as the GirlTrends that set the stage on fire.
5. Loveteams fest
Sure the boys alone have sent women in the crowd crazy, but most of the audience lost it when the respective love team partners of the boys shared the stage with them for a performance.
Ryle spontaneously invited his rumored girlfriend and GirlTrends member Barbie Imperial at the tail end of his performance of Ed Sheeran's "Photograph" and "serenaded" her in front of the crowd.
Ronnie, meanwhile, had a sweet introduction to Loisa Andalio, before she took the stage for her solo performance of Up Dharma Down's "Tadhana."
Luke, for his part, has incorporated his loveteam Jessica Marasigan on his performance of Frankie Valli's hit "Can't Take My Eyes Off You" for a sexy interpretative dance number.
The fans meanwhile went wild when Elisse Joson entered the stage for what turned out to be a "buwis buhay" performance with her current loveteam McCoy. The two further sent kilig vibes to the crowd when McCoy handed a puppy to Elisse as a gift which she eventually named McMc.