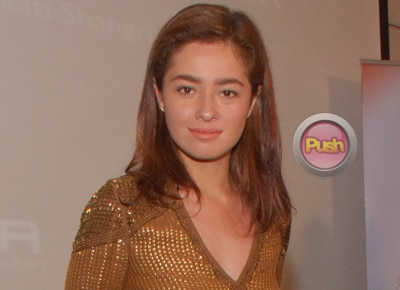 Andi Eigenmann posted series of tweets on her Twitter account @andieigengirl to send a message to an unidentified detractor of her mother Jaclyn Jose.
"Naisip ko sanang mangbara. Kaso naisip ko rin, wala naman dating sa amin yung opinion mo dahil hindi ka naman naging best actress sa Cannes," she started posting.
"I am aware that there is a myriad of opinions out there being that we have a population of about 7 billion people in the world. But although you are entitled to your own opinion, I also have the right as a basic human being, to try to make you change it. After all, its (sic) not an argument if it will be more about me instilling some more knowledge in you. It's called education," she said.
She stressed that her mom's win in Cannes is the jurors' decision. "My mom won best actress in this year's Cannes Film Festival because the jurors said so. Juror's (sic) whose knowledge in the art of cinema is ... Far more substantial than yours. These juror's (sic) choose awardees depending on how exceptional their performances were. Not on how much money they were given just to choose the power hungry. There is a reason why they are most prestigious."
Andi added, "People like you make me feel so sorry for this country. People leave the country because of people like you. When in fact it should be people like you who should leave, because people like you. You are people who do nothing but step on and crush the dreams of people who actually have harmless and diligent ones. Or were you just raised to think that the key to success is to blow out other persons' candles???"
She continued that she will never back down if it's her loved ones who are being attacked.
"I have mastered the skill of flushing all my F's to give at whichever toilet is nearest me, whenever it is about me. But when it's about people I love, or matters that are so important to me, better bring your A game cause Im gonna (sic) KO you with words. It's not about thinking I am smarter than you are. Its (sic) about me being passionate about something and you being an asshole, stepping on it. So long as they aren't in the wrong, you mess with me when you mess with my idols, my friends, my family, my child, and my best actress!!!"
Andi did not identify the identity of her mom's detractor.