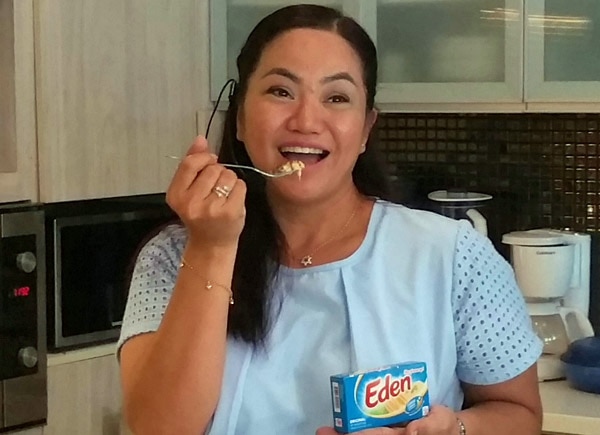 Known for uploading entertaining self-help videos on YouTube, a single mother who goes by the name Mommy Star, is the newest face of Eden Cheese Philippines. As the new brand ambassador, Mommy Star will tour around the country to teach easy recipes which involves using the product.
In an exclusive interview with
PUSH.com.ph
, she shared that it was the brand's advocacy that made her say yes to the project. "First of all, the word, 'mom' kasi 'yan talaga ang main purpose ko dito sa #ThisIsHowYouNanay eh, how to be a good mom. Basta all about being a mom, paano palakihin 'yung anak sa maayos na paraan so noong sinabi nila sa'kin 'yung gusto nilang ipagawa for the project, hindi na ako nagdalawang isip," said Mommy Star who solely raised her only daughter who is turning 9 years old and is also a part of the commercial.
Hence, understanding that being a mother is a life-changing experience, Mommy Star gives some tips on what will make life easier for mothers.
1. Budgeting
According to Mommy Star, there are certain products that need not be too expensive like cooking ingredients, "Sabi ko nga kanina, hindi kailangan lahat 'yan mahal. As long as we trust the brand that we use…"
Nonetheless, she also said that she would not compromise quality, "Gano'n talaga ang mga nanay. Kasi minsan, bibili nga tayo ng mura, 'pag ka niluto mo or nalasahan mo, it's not what you expected. So iba talaga 'yung natrust mo na, na-proven mo na, nagamit mo na, 'dun ka na magstick."
2. Healthy living
Mommy Star said that she has a cheat when it comes to dieting. In the morning, she said, "When we wake up, drink 1 to 2 glasses of water before you have breakfast and then wait for 30 minutes para magpenetrate, maganda 'yung digestion mo."
During lunch time, she advised, "At saka isang factor din 'yung every after meal, sa lunch time, meron kang papaya para maganda 'yung bowel movement mo, nake-cleanse ka rin at the same time."
Mommy Star shares after doing this procedure, she now weighs 137 lbs from her former weight of 142lbs. She says she is targeting to lose more so she can have energy to move and be more active.
3. Living Life
Revealing that her YouTube videos are now her focus aside from being a mother and daughter at the same time, Mommy Star said she currently has her hands full with all her responsibilities.
What can she advice mothers who are also busy with various activities?
"As far as I know, walang moms na hindi busy. Lahat kami, we are super moms, we are all amazing moms in our own different ways. Ang masu-suggest ko lang, make every moment count," she said, even sharing that she captured her daughter's growing up years on video because of her channel.