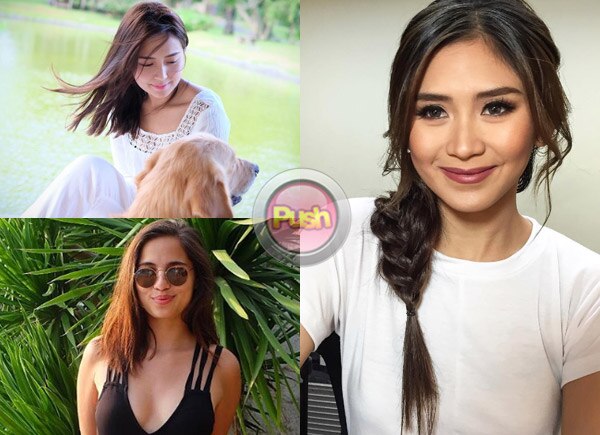 Slay your selfies on your next trip, girl! This summer calls for fun-filled activities with the hairkada. Go out and have fun while sporting that HABA-mazing hair, 24/7.
How? Start playing with your long and amazing hair with these summer dos. Take inspo on how Kathryn Bernardo, Sarah Geronimo and Jasmine Curtis nailed it in the beauty department with their fab hairstyles kept amazingly strong and long by Sunsilk.
Check out these beauties' summer hairstyles below:
Lugay Lunes
Beach trip to Calaguas with the hairkada? Their strong and long hair are giving us major hair inspiration!
Tirintas Tuesdays
Climbing Pinatubo with your hairkada this weekend? Gather your long tresses and cinch with a band to turn your HABA-mazing hair into a sporty but sweet hairstyle with braids.
Wavy Wednesdays
Weekend getaway to La Union? Work on that charm and flaunt your beach waved hair!
Tali Thursdays
Cliff diving in Tali beach with your hairkada? Exude confidence even when your HABA-mazing hair is tied-up!
Fabulous Blowout Fridays
Going to a summer party this Friday? Flaunt your gorgeous and bouncy long hair as you enjoy the outdoor breeze with your hairkada.
Having an AMAZING long and strong hair makes hairstyling fun with your hairkada this summer! So to flawlessly cop these stunners' haba-mazing hair, use a trust-worthy product that will nurture your hair from root to tip –like Sunsilk Strong and Long. It has Biotin that nourishes hair as it grows. With Sunsilk, your hair will be stronger –making it long and ready for these summer hairstyles!
Play with your HABA-mazing hair on your next outing with the hairkada. Flaunt your summer-ready, #SUNSILK Habamazing hairstyle and own this sunny season!
Want to learn more about these stars' haba-mazing hair? Be sure to LIKE us on
Facebook
and watch out for something #SUNSILKHabamazingthis summer!