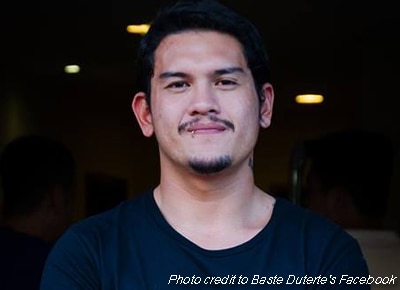 Presumptive Presidential son Sebastian "Baste" Duterte's online video titled "Kiss Baste" has gone viral.
In a video posted by Facebook Page Mugstoria, Baste can be seen blowing kisses to his fans as instructed by his friend in the video.
As of this writing, the video has already reached 829k views. Various comments were posted and thousands of fans have reacted to the viral video.
Facebook user Marizapatty Devibar Pateño posted, "Baste, GOD BLESS YOU!..Dghan kang napatawa bsag naay problems..usa nko ato... hehe Thanks for being born!. (Baste, God bless you! Marami kang napatawa kahit 'yung may mga problems, isa na ako don)"
Facebook commenter Ruth Sara Dee commented, "I know it's not just for me. Pero kinilig talaga ako ng sobra."

Baste has been attracting attention online ever since his father Rodrigo Duterte decided to run for the presidency. He actively participated during his father's campaign period. Now that his father is the presumptive president of the Philippines, the attention has become more massive.
Baste has become a heartthrob in a span of a few months. His official Facebook page Sebastian "Baste" Duterte has now 201,191 likes as of this writing.
Asked by CNN Philippines in an interview if he is interested of joining politics someday, Baste responded, "There are better things than politics like living a simple life and finding happiness in simple things."
He said that he wants to lives simply. "I believe in equality that's why I really try to live a simple life because I want to be fair to those people who don't have much."