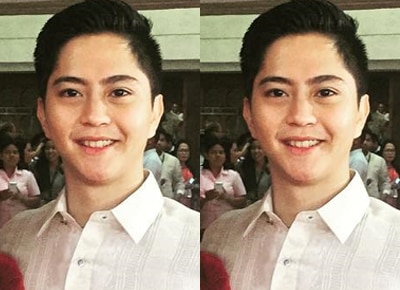 Sandro Marcos, son of Vice Presidential candidate Ferdinand "Bongbong" Marcos Jr., messaged actor Enchong Dee on his Twitter account and apologized to him.
The reason for this exchange of tweets stemmed from Enchong's post the other day which said "A Marcos will and always be a Marcos" referring to the issue between Sen. Marcos and Cong. Leni Robredo regarding the vice presidential race, as he is a staunch supporter of the Naga native. A fake Twitter account of Sandro replied to the actor saying, "A gay will always be a gay."
Although Enchong has already deleted his tweet, Sandro still messaged the Kapamilya star.
"Hey man, I understand that one of my fake accounts tweeted you, wanted to say i'd never say something like that. Apologies," 22-year-old Sandro wrote.
"Me too I apologize for what I've said, I guess I became too passionate with this election. My bad," Enchong replied.
Sandro then told him, "Not at all, this election has been so heated it's understandable. Thanks for understanding!" which earned Enchong's respect.
Main Photo credit to sandromarcos7 IG