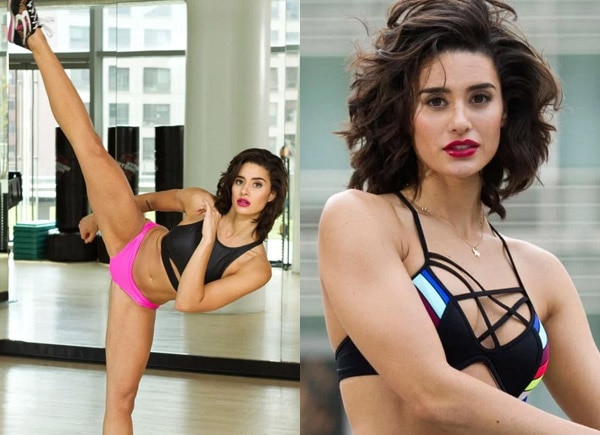 Everybody who is a fan of action movies has idolized Belgian actor Jean-Claude Van Damme who is known for his martial-arts action movies like Bloodsport, Kickboxer, and Street Fighter, but here's another Van Damme whom you should get to know that is extra bad-ass.
Meet Bianca Van Damme, a perfect combination of beauty and strength. At an early age, she's been exposed to martial arts because of her father and mother Gladys Portugues, an ex-bodybuilder and fitness competitor. In an interview with the NY Post,
Bianca shared more facts about herself.
She wants to inspire little boys and girls
Bianca, who is 25 years old from West Village, New York, told the NY Post, "I want to show little girls and little boys that you can be physical and feminine. That you can cross your legs at the dinner table and then kick ass in a nice, feminine way."
Bianca 'hated' martial arts as a child
Bianca admitted that she didn't like martial arts when she was a child. Her parents introduced martial arts to her at an early age.
"My parents let us do our own thing. When I was young, my mom pushed me into martial arts for self-discipline. I was 7 and like, 'I can't stand it."
Bianca is an ice skating expert and dreamed of joining the Olympics
Since Bianca didn't practice martial arts when she was young, "she stuck with ballet and [ice] skating." She practiced ice-skating until an injury happened that made her life direction switch.
"As a teenager, I was so focused on speed skating, I wanted to be in the Olympics. I was stuck for a while. My whole life was skating. Then all of a sudden, I needed to find something new."
Bianca is an actress and film producer
Bianca started acting and doing martial arts with her father in 2008. She appeared in the movie The Shepherd: Border Patrol.
"I didn't like what I saw on-screen when I watched my first film. I realized that if this was what I was going to do, I needed to do it right," she said.
Bianca had a different screen name
Bianca has appeared in six of Jean-Claude's films and co-produced two of them. She had different screen names such as Bianca Van Varenberg (Jean-Claude's real surname is Van Varenberg) and Bianca Bree (Bree is short for her middle name "Brigitte").
Bianca is not 'daddy's little princess'
Bianca's dad Jean-Claude split from her mom Gladys in 1992 and had a short-lived marriage with model Darcy LaPier. Darcy and Jean-Claude had a son named Nicholas, who is now 20 years old. Jean-Claude remarried Gladys in 1999.
"It depends on what year. Yeah, it was tough. It's never been like I'm my father's little girl or princess. Our relationship definitely had its ups and downs, but now we're cool. We talk and we hang out, but it's not like I'm calling him being like, 'Hey Dad, let's grab a bite and talk about life.' We'll go to the gym and kick and stuff."
Bianca can do her father's tricks
Bianca could also do flying kicks, spins and even a balancing split.
Bianca has a unique father-daughter bond with Jean-Claude
Bianca admitted that they bond through 'competitiveness' since both of them are perfectionists.
"I'll agree to meet up with him and then I'll be like, 'Ugh, why am I here?' I'm a perfectionist, and so is he, so he'll always give me little critiques on my form, "He'll be all like, 'Look how high my kick is!' And I'm like, 'Dad, you can't be serious — I'm obviously better than you!'?"
(All photos credited to Annie Wermiel via NYPost)