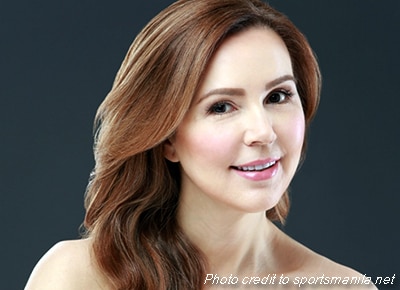 Newly proclaimed mayor of Tacloban Cristina Romualdez posted on her Facebook account yesterday, May 11 to apologize on behalf of her teenage daughter Sofia Romualdez, who used foul language and criticized Vice Presidential candidate Leni Robredo.
"What I said about Leni was out of frustration and anger. I'm human and I make mistakes too, I'm sorry if I offended anyone, " the 16-year-old posted before her account was deactivated.


"As a mother and most especially as a Christian I do NOT approve of such words. SHE IS VERY APOLOGETIC AND IS LEARNING," Cristina wrote in her Facebook page.


The former actress also said that Sofia is, "16 so I believe she didn't realize what she was doing."


Cristina also mentioned that she has met Leni during her husband Sec. Jesse Robredo's wake in 2012 and Leni "does not deserve such words."


In the end, she asked the public to forgive Sofia and to pray for each other because "this is what the country needs."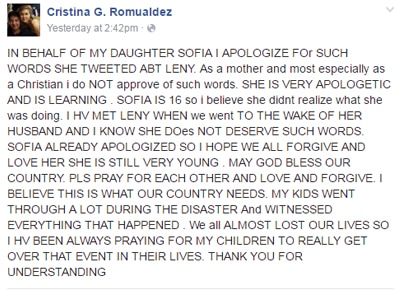 Cristina is the wife of the outgoing Tacloban Mayor Alfred Romualdez, who is Sen. Bongbong Marcos' cousin.