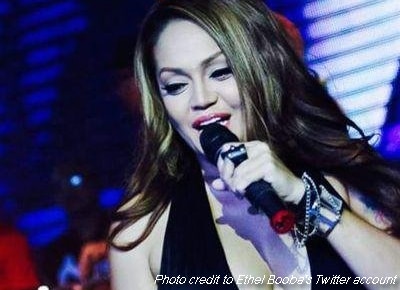 Comedians normally pack a good punchline anywhere they go, and some really hit it best online, particularly on social media where those one-liners or two really go the lengthy distance in getting that hearty laugh.
Locally, there have been a few, who bring their best stuff to even the limited 140-character space allotted on Twitter. But no one could compare to one singer-comedienne, who brought together both her live and online personas all in the same rib-tickling fare. Who would not even have a slight chuckle when Ethel Booba pounds that joke and ends with a "Charot!", whether on stage or on her Twitter account @IamEthylGabison?
Actually, Ethel's tweets aren't actually those that share a new wardrobe, reveal an ex-boyfriend's irritating mannerism, or simply retweeting a fellow sultry star's scandal. She makes incredibly spot-on, witty and hilarious comments about the most-talked about matters of the day—from the power outage that hit the NAIA to the PiliPinas Presidential Debates.
While most have not seen Ethel regularly in the spotlight, her rip-roaring tweets retweeted and shared by her amused 164,000 followers to fellow Twitter users or reshared on Facebook, expanding her reach farther than any of her present stand-up performances or TV guestings combined.
Last Sunday's PiliPinas townhall presidential debate on ABS-CBN became that big brouhaha she could not help but hilariously comment on. She really made one thing perfectly clear…
And, asked if ABS-CBN was "biased"?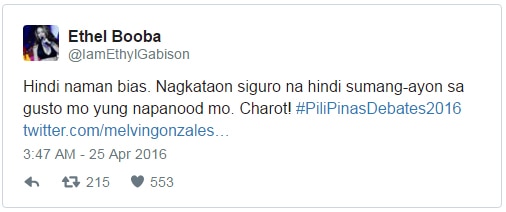 Ethel saw in her feed that someone would give up on the Philippines if a certain candidate would win: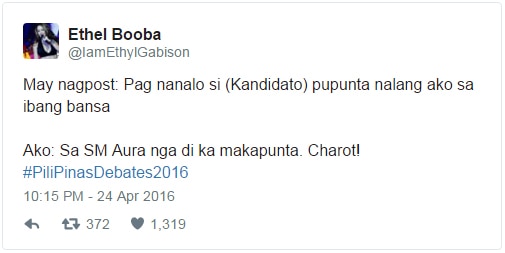 She also realized that someone forgot to include an important question in the debate's "Fast Talk" portion.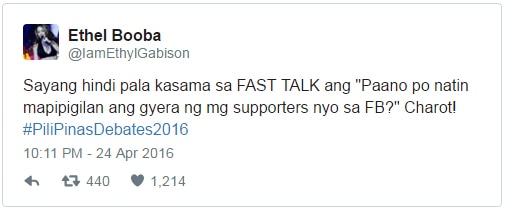 And about one candidate's proclaimed qualifications for the presidency…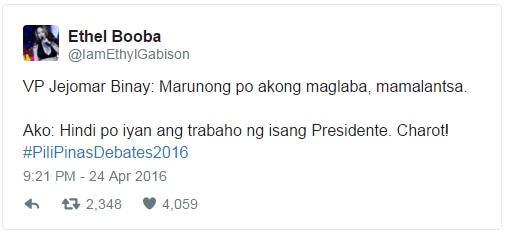 She also found something wrong in a candidate's hashtag…

Ethel also made an ingenious conclusion after the new Bb. Pilipinas Universe was proclaimed…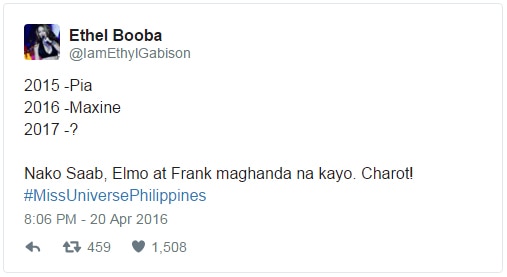 And, rape is no laughing matter, if you hear it right.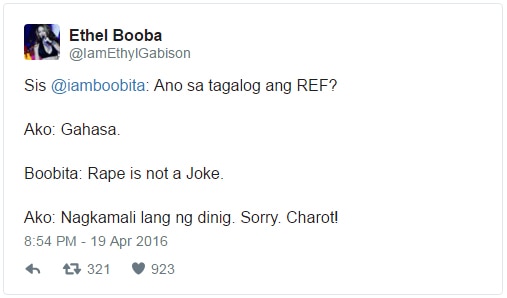 Ethel also observed how one vice-presidential candidate was delivering his point.

Finally, what she thinks as a terrible mistake on the part of the Ninoy Aquino International Airport authorities during one "bad luck" April night…