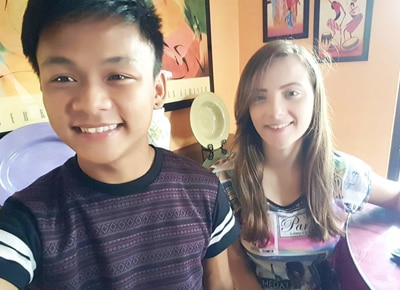 After photos of Buboy Villar together with a girl named Angillyn Serrano Gorens circulated online, people were curious if she is Buboy's girlfriend.
In a Facebook post by Angillyn's older sister Veybillyn Serrano Gorens last April 13, she said that their mother who's in the US was upset when the photos went viral and that they are not aware of Buboy and Angillyn's relationship.
"Our parents are not aware of what is going on between Buboy Villar and my sister. My mom who is in America for several months now was so upset when all her friends started calling her about the trending pictures of Buboy Villar and my sister at our house. [Sic]," she wrote.
She also added that Buboy was able to talk to their mother before the news spread and had an agreement that he can get to know Angillyn well by courting her in a "Filipino manner."
"She didn't like how Buboy Villar talks on social media about having a relationship already," Veybillyn continued.
However in Angillyn's Instagram page, she calls Buboy "My Love" and "My partner in crime." In her Instagram bio, she also said that she is "Buboy's."