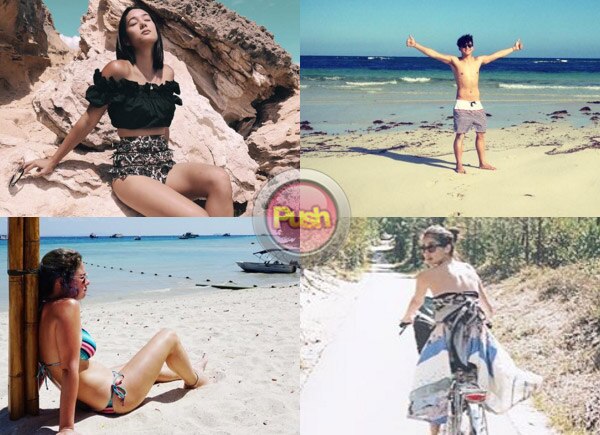 Summer is just around the corner so pack those bags and fly off somewhere for a vacation. Here are five celebrities who should inspire you to go on a summer getaway.
She's one of the most fashion-forward and stylish gals that you will find on social media. She won't just inspire you to dress well and fill your wardrobe with chic clothes, but she will also encourage you to explore the world.
Kim Jones has been everywhere. It is pretty commendable how she is able to fuse fashion and traveling into her life. As she flies around the world while looking like she just came off the runway in her Instagram photos, you will be inspired to wander and to go beyond the comforts of home.
From the winter wonderland that is Lake Tahoe, to sunny Australia, to the beautiful islands of Boracay, to the majestic sights in Paris and to exotic places around Asia, Kim got to experience all of them. As you scan her beautiful snapshots taken around the world, you might be bitten by the travel bug yourself and start your own adventure in style.
Many know Anne as the actress and the host of our favorite Kapamilya shows but more than that, Anne is an adventurer who constantly is exploring the world.
She recently flew to Chile where she did some star-gazing with boyfriend Erwan Heussaff, walked around the majestic desert, visited the home of her favorite poet Pablo Neruda, and climbed the Andes Mountains to see the geysers in El Tatio. She also flew to Argentina with a bunch of friends and tried horseback riding, hiked in El Chalten, and experienced Glacier Perito Moreno Glacier.
Without a doubt, Anne is an explorer and her heart belongs to the world.
When it comes to being a cool mom, Andi Eigenmann seems to have figured it all out. Andi makes sure that she doesn't get to see the world alone because she brings along her adorable daughter Ellie on her amazing trips. Their escapades are definitely mother-daughter bonding experiences one should aspire for.
From the busy of streets of Tokyo, to the blue waters off Philippine beaches, to the sunny beaches of Thailand, and to the beautiful sights of Bohol, you will definitely be inspired to wander around with your loved ones as well.
Nadine Lustre
Nadine Lustre is undeniably one of the hottest and most in demand stars today. Even with her busy schedule, the actress still finds the time to pack her bags and fly to some of the most beautiful sights.
Nadine recently took the time off from work and traveled to Korea with her friends and walked around the vibrant city of Seoul. She also took the chance to wander around San Francisco, California while taping for On the Wings of Love. Nadine also is a beach person and finds the time to enjoy the water once in a while like when she went to Hundred Islands in Pangasinan.
Enchong Dee's social media account is filled with his random adventures here and abroad. He even has a hashtag for his trips, calling it #EnchongAwesomeTravel. His latest music video "Telenobela" was even shot overseas.
As he chronicles his adventures and posts random snapshots of his trips, you can't help but feel inspired to take a random road trip as well.