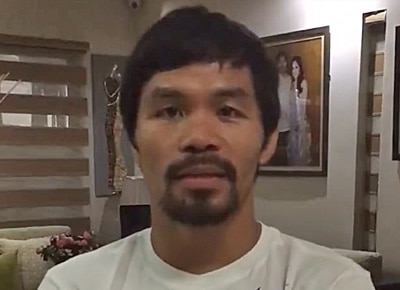 In three separate videos on Instagram, Manny Pacquiao apologized for his statement regarding same-sex marriage.
The boxing hero stated he is sorry for comparing homosexuals to animals but stands by his beliefs on the issue.
"I'm sorry for hurting people by comparing homosexuals to animals. Please forgive me for those I've hurt. I still stand on my belief that I'm against same sex marriage because of what the Bible says, but I'm not condemning LGBT. I love you all with the love of the Lord. God Bless you all and I'm praying for you," he also said in the caption of his videos.
In a previous video interview, the boxing champ said he is not for same-sex marriage and compared homosexuals to animals.
"Common sense lang, makakita ka ba ng any animals na lalaki sa lalaki o babae sa babae? Mas mabuti pa 'yung hayop marunong kumilala kung lalaki o lalaki, babae babae o 'di ba? Ngayon kung lalaki sa lalaki o babae sa babae eh mas masahol sa hayop ang tao," he said.
Staunch LGBT rights supporter Vice Ganda once again took to Twitter to post his reaction after watching Manny's video.
Box-office director Wenn Deramas had the same sentiment as Vice Ganda and shared this on his Facebook account.
Main Photo credit to Manny Pacquiao FB