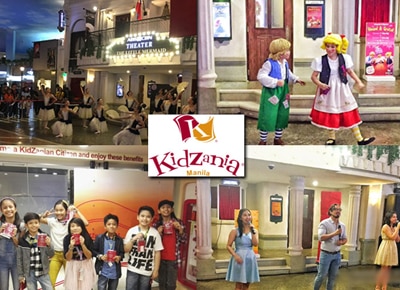 Big adventure knocks on the doors of KidZania Manila, as moms, dads, siblings, and grandparents embrace the fun and learning with "Weekends are for Family."
Saturdays and Sundays hit a new level of excitement as the play city rolls out various fun activities. Families enjoyed a special performance by the cast of Repertory Philippines' Hansel and Gretel last September 10 and 24, which delighted the young and young-at-heart alike. Those who missed this treat should not worry, as the talented thespians will be back on October 22, 5:30 p.m. at the Main Square, to present a sneak preview of the well-loved book, A Little Princess. Families will also get to enjoy a meet-and-greet session with the stars of the play right after.
The all-new "Weekends are for Family" program aims to get everyone involved trying roles at select establishments at the play city. Side-by-side, family members can unleash their inner dreamers and enjoy the various jobs in KidZania Manila. Misters and misses have to decide which way they're going, with fun set out in all directions. They can assist mom and dad, grandpa and grandma in exploring job openings in the play city.
The play city also played host to a vibrant mix of performers from the G-Force, Halili-Cruz School of Ballet, UP Street Dance Club, 9 Works Theatrical (with actors George Schulze, Becca Coates, and Mitzie Lao), and the talented finalists of The Voice Kids (Season 3).
While the future artists at KidZania Manila busied themselves with their fellow creatives, the up-and-coming scientists tested their theories with Mad Science Philippines. Curious misters and misses used the Main Square as an open laboratory to cook up their next experiment.
The approaching train of treats
KidZania Manila has packed even more exciting activities for families and friends for the last months of the year.
As part of the "Weekends are for Family" program, watch for KidZania Manila's First Book Fair this coming October 8 and 9 (Saturday and Sunday) with National Bookstore and ABS-CBN Publishing. Discounts and activities await families! On October 15 and 16 (Saturday and Sunday), there will also be a Lego Building Competition in two categories: for misters and misses 7 to 10 years old and for misters and misses 11 to 14 years old. Competition will be in the afternoons and will require sign-ups at the Main Square.
Fun will take another turn come October, as adults get to be kids again during Halloween with the first Big Kids' Night on October 21, 2016, open to adults 18 years old and above.
The excitement doesn't stop there! Starting October 16 until December 18, families will get to experience Zuper Sundays. KidZania Manila will have one shift on Sundays, from 9AM to 5PM--that's 8 hours of playtime!
Watch for the Treasure Trove surprise for CitiZens (KidZania paZZport holders) this coming Halloween, October 28 to 31. Stand by for announcements on KidZania Manila's website, manila.kidzania.com or follow KidZania Manila on Facebook, Twitter, or Instagram!
KidZania Manila is truly the best place for families to have their fill of non-stop fun. They can choose to go during the morning shift (9 AM to 2PM) or the afternoon shift (3 to 8PM) on Saturdays and Sundays. Don't forget that Sundays, from October 16 to December 18, will now be one shift (9AM to 5PM).
Weekends have never been this fun for the whole family! Rediscover a world of learning at KidZania Manila! The city is also open on weekdays, from 9AM to 4PM. For tickets and more information, including planning your holiday schedule in advance, visit manila.kidzania.com.
About KidZania
KidZania is an interactive kids' city combining inspiration, fun, and learning through realistic role play for kids four to 14. Kids can independently explore the kid-sized city with over 70 establishments and over 100 role-playing activities. Each experience is designed to empower kids, giving them the confidence to be their best selves, and inspiration to be great global citizens. One of the world's most inventive, most awarded, and fastest-growing kids' educational entertainment concepts, KidZania has 24 locations in 19 countries, including the Philippines.
KidZania, Inc., headquartered in Mexico, was founded in 1997, opened its first park in 1999, and is privately held. For more information about KidZania Manila, visit manila.kidzania.com.
KidZania is locally franchised by Play Innovations, Inc., whose majority stakeholder is ABS-CBN.
Dancers from the Halili-Cruz School of Ballet stun with their sophisticated moves.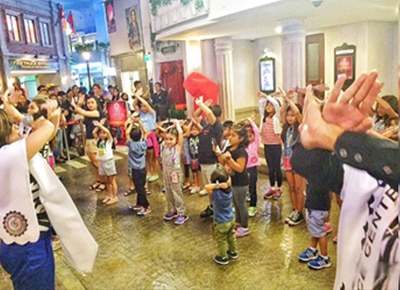 Teacher Georcelle Dapat of G-Force teaches KidZania kids how to dance.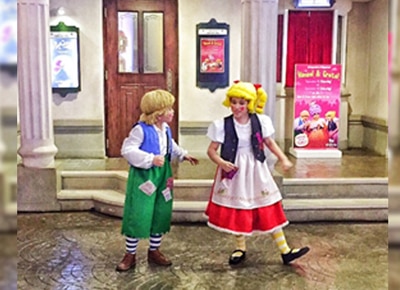 KidZania Manila gives a special preview of Repertory Philippines' Hansel and Gretel at the play city.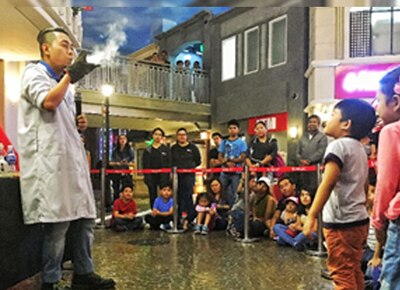 Kids discover the magic of dry ice with Mad Science.
The Voice Kids get their KidZania Manila paZZports.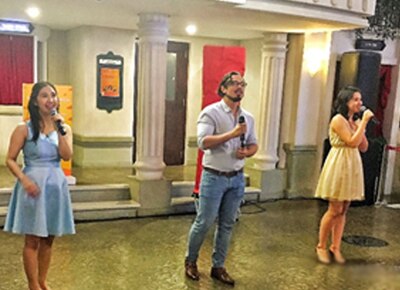 (From left) Mitzie Lao, George Schulze, and Becca Coates of 9 Works Theatrical showcase their singing prowess at the play city.