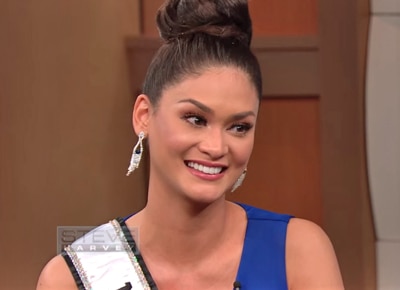 After the most controversial Miss Universe pageant happened last December 20, 2015 where host Steve Harvey mistakenly announced Miss Colombia as the winner instead of Miss Philippines, Pia Wurtzbach and the TV host met again on "The Steve Harvey Show." This is the first time Pia has seen Steve since the pageant.
Pia's interview with Steve that which aired January 19 showed Steve sharing his side of story and denied rumors that he was drinking and missed rehearsals during the pageant. Pia attested that Steve was present in all of their rehearsals and what happened during the actual event was a human mistake.
Pia also recalled how she felt standing right next to Miss Colombia during the pageant.
"I tried to keep a safe distance from her so as not to disrespect her. I didn't want her to feel bad. I was being sensitive to her feelings. So when I was standing there, I was very happy, I was excited. But I was also thinking about her; I could not help but think about how tough this must be for her," she said.
As they sat down and talked about the unforgettable night, Steve asked Pia what's her message for Ariadna.
"I'd like her to know that I hope this doesn't change her perception of Miss Universe, the organization, of you (Steve), of me. It was an honest mistake you know mistakes happen especially on live television."
Pia then said that she hopes she can inspire people with her story. It took Pia three attempts before winning the Miss Philippines title for Miss Universe.
"I wish I had more time to tell people about my life back in the Philippines. It wasn't easy but I think I have the whole year to tell them about my story. And I do hope that I get to inspire people, that people could throw stones at you but, I read this one quote, 'A real queen knows how to make an empire with the same stones thrown at her,' so that's what I want people to learn," she said.
In the end, she consoled Harvey and said, "Don't beat yourself up anymore. Let's move forward and let's be happy."
To this he responded, "I want some healing to be done for you and Miss Colombia I want that more than anything so thank you for coming. I thought you were an absolute class act, absolute class act."
Miss Colombia's interview with Steve will air tomorrow, January 20.