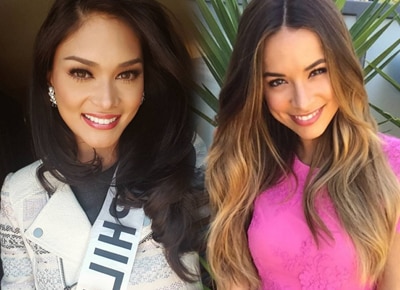 During Miss Australia 2015 Monika Radulovic's guesting last January 18 on The Grill Team, a radio show in Australia, she commented that the Top 3 during the Miss Universe pageant last December 20, 2015 "Were the only ones that weren't that nice to the other girls."
She also said, "They were okay, but I think that is because they were under a lot of pressure from their countries.
The 2015 Miss Universe's Top 3 were 2015 Miss Universe Pia Alonzo Wurtzbach, 1st runner-up Miss Colombia Ariadna Gutierrez and 2nd runner-up Miss USA Olivia Jordan. Miss Australia was part of the Top 5 finalists along with Miss France.
Because of Monika's statement on the show, she earned bashers on social media. Pia then defended her and told her 'kababayans' to not give harsh words to Miss Australia and to not be a bad example.
"Mga kababayan, please stop attacking Monika on her social media. Or anybody for that matter. No to cyber bullying!" she wrote.
She sent another tweet and said, "Nakakahiya na po. Wag na po tayo ng mag comment ng masama at pumatol. Hindi po natin ugali yan. Wag po tayo maging masamang halimbawa."
On the other hand, Monika also sent her apologies on her Instagram account.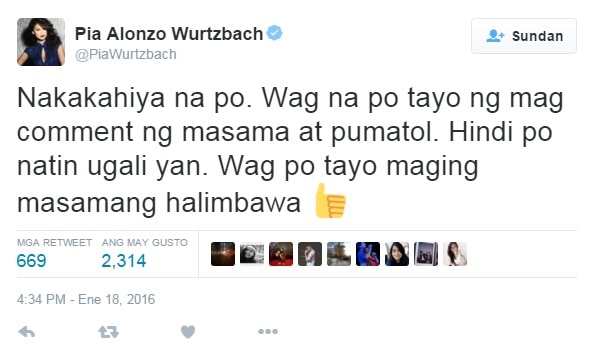 "I always strive to be the best, kindest person I can be. But what I said yesterday came out completely the wrong way and I want to sincerely apologise for that.
"I didn't mean they weren't nice girls, just that they were very focused on what they were doing. I just didn't get a chance to get to know them as much as you would have liked, and that is all that that I meant by it. I'm truly sorry if I've offended or upset anyone, that is the last thing I'd ever want to do. I will choose my words much more carefully from now on.
"Thank you to all of the beautiful people that have been defending and supporting me- I read and appreciate all of your comments and you all truly brighten my day, [sic]" she wrote.