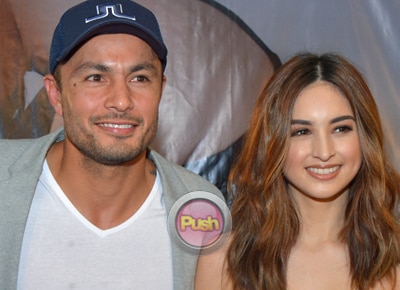 With her launching movie with Star Cinema opening this week, Coleen Garcia admitted doing the sexy romance
Ex With Benefits
was not an easy task. "Actually that was a challenge for me
kasi ang taas ng boses ko
(laughs). I'm very young at heart so it was something I had to adjust to and there are different timelines in this movie. There was a scene from ten years ago so doon I could be myself na pero yung present scenes they're really very challenging for me. It was a big adjustment for me at the same time," she shared.
The 22-year-old actress said she can understand how her character deals with love after heartbreak. "Yung part na nakaka-relate ako kay Arkisha, she went through something ten years ago that really hurt her, it damaged her so much and it just made her shut herself out and she closed the entire world out. Naging bato siya and I guess that's something I can relate to. Nahihirapan ako na makaramdam ng emotions, or mag-express ng emotions sa ibang tao. I never cry in front of anybody because I had to be strong for so many people. Nakarating ako sa point na naging bato na rin ako. I tend to shut myself out from the world also. I tend to put up really high walls and yun din yung downfall ko in a way, but yung differences naman namin marunong ako mag-let go," she explained.
With the many intimate scenes she shared with Derek Ramsay in the film, Coleen said she is not worried people may see her in the wrong light. "Ako kasi, before even accepting this role I made sure to read everything. The way it's marketed now it's sexier than what people are used to but it still doesn't take out the story which is really very nice. Kung may masamang nakita or masamang nangyari, I have faith naman in the director that he wouldn't include it so my objective was really for it to be perfect on the first take para at least hindi sayang yung ginawa namin. So tuloy pa rin," she admitted.
Coleen said that having Derek as her leading man is something she considers herself thankful for. "Of course, of course I felt honored not just because of the fact that he's the most desirable, but also he's such an experienced actor. To be paired with him is really a big deal for me because he's been paired with so many girls already. He's had so many movies that were really successful. So I felt pressured at the same time but it was really such an honor. It's still such an honor to work with him. It's my launching movie with Star Cinema so it's definitely a big deal for me," she said.
When asked how the experience was doing their bed scenes knowing Derek is good friends with her boyfriend Billy Crawford, the
It's Showtim
e host said there was no issue. "We're acting eh so it's our job so when we're on the set I'm Arkisha and he's Adam. I think he really fits the role of Adam kasi may vibe siya na very mature, very firm and bagay na bagay talaga sa kanya yung role na doktor pa. He's so professional, feeling ko talaga nag-ta-trabaho kami the whole time," she added.
After getting a positive review from critics for her work in the independent film #Y last year, Coleen said she did not deliberately choose to play a similarly liberal woman in Ex With Benefits. "Kasi in #Y it was all verbal eh. Puro salita so that was a challenge in itself also because I had to seem promiscuous without actually doing anything. Pero eto kasi ibang iba, this is so, so far from my character. Dito kasi parang mahina ang loob ko, bato ako and I find it hard to express myself. This is more daring but yung pagka-daring niya kasi is very emotional. Lahat ng pagka-daring ng role ko dati was all verbal. This is pretty much the most daring thing I've ever done sa isang project but I also don't want to be limited to this kind of project. I want to be able to try a lot of different roles," she said.
Ex With Benefits opens in cinemas nationwide starting September 2.