Some of our favorite stars have proven to us that they're not only good in acting, but also in cooking and baking. Aside from memorizing their spiels and showing off their prowess in front of the camera, they can also whip up a dish or two in the kitchen, run a full-service restaurant, or even manage a whole restaurant empire.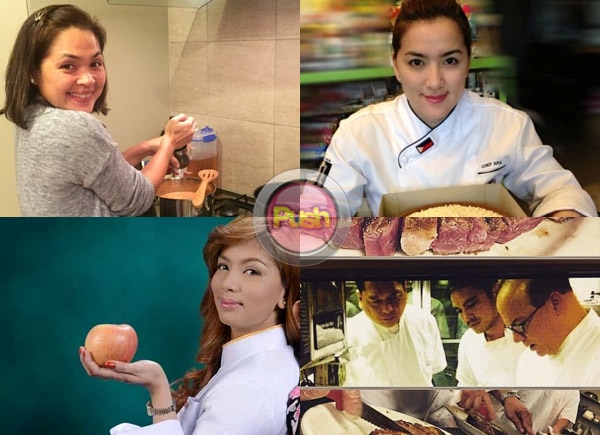 Listed here are 10 celebrities who also shine bright in a totally different spotlight:
1) Judy Ann Santos
Judy Ann juggled both her showbiz career and a fondness for cooking at a very young age. Like most Filipino chefs, she started developing her skill set through trial and error in what we all know as "lutong bahay."
Her formal training started with a short course in International Cuisine in Chiang Mai, Thailand in 2008. She then studied and graduated at the Center for Asian Culinary Arts Studies wherein she was awarded a silver medal for "Basic Skills in Cooking" and a gold medal for "Advanced Skills". In July of 2009, she received a Certificate of Competency from TESDA after passing the national certification exam. She hosted the competitive cooking game show MasterChef Pinoy Edition and Junior MasterChef Pinoy Edition, an adaptation of the British game show, in 2011.
2) Marvin Agustin
His showbiz career as a teen matinee idol alongside Jolina Magdangal was just a stepping stone in the actor's dream of owning and managing a restaurant. His younger years in the business did not only give him money and fame, but also the necessary tools in what later became a restaurant empire he started.
After attending the International School for Culinary Arts and Hotel Management and the Asian Institute of Management, he ventured into the food business with fellow restaurant entrepreneurs Ricky Laudico and Raymond Magdaluyo. He now co-manages a number of brands under the SumoSam Group of Restaurants including SumoSam, Kung Fu Kitchen, Tokyo Grill, John and Yoko, Mr. Kurosawa, Johnny Chow, Marciano's, Komrad, Robotosan, Gambino, Banzai, Teddy's Bigger Burger, and Alqueria Restuarante Y Chocolateria. With a number of branches for each scattered all over the country, the number of restaurants in his empire is now more than 50.
He was awarded Young Entrepreneur of the Year in 2012 by the prestigious Ernst and Young and SGV Foundation.
3) Marian Rivera
The actress started a separate Instagram account devoted solely to her cooking last December 2014 with the handle @lutoniyan. Its profile says "Marian Rivera loves to cook and is a certified Foodie" and, indeed, the account shows her penchant for cooking. She also started training at the Heny Sison Culinary School early this year.
4) Julia Montes
Julia furthered her interest in cooking by attending the Center for Culinary Arts Manila. Donning her chef toque on graduation day last June, she claimed the moment as "one of the happiest" in her life on her Instagram account.
5) Yam Concepcion
Yam was Julia's batchmate in the Center for Culinary Arts Manila. Photos of their lessons on dessert-making were shared on her Instagram.
6) Amy Perez
Umagang Kay Ganda's recipe segments are proudly hosted by Amy. She attended the International School for Culinary Arts and Hotel Management in Quezon City for a three-month course last year. In an interview with ABS-CBN News, Amy shares that her inspiration for developing her cooking skills are her children.
7) Victor Neri
Sauté by Chef Victor Neri is one of the hottest restos along Tomas Morato. Completely hands-on in this venture, the former action star started from the ground up to learn the ropes of the food industry. After leaving showbiz, he worked in numerous kitchens across Southeast Asia and his experience included taking out the trash and other chores. He learned his culinary techniques from Le Cordon Bleu in Bangkok, Thailand.
8) Ara Mina
Long before entering show business, Ara enjoyed spending time in the kitchen with her Lola Sonya. Her late grandmother used to own a home-based business, which is now the inspiration of the actress.
She finished a full course in Pastry Baking at the International School for Culinary Arts and Hotel Management in 2012. After receiving a number of cupcake orders, she officially opened her own pastry business and named the online shop after her: "Hazelberry Cupcakes." (Her real name is Hazel Klenk Reyes.)
9) Aya Medel
One of the must-tries in Tabaco City, Albay is a restaurant owned by '90s sexy actress Aya Medel. IshiAya's Garden Bistro is named after the actress and her daughter Ishi.
The restaurant serves both Japanese—mostly Yakiniku—and Filipino food. Because of Aya's Bicolana roots, expect that the Filipino dishes have that spicy twist.
10) Donita Rose
During the height of her TV career, former VJ Donita Rose signed up for a year-long course at the Academy for International Culinary Arts in 2012. As soon as she finished her thesis on French molecular gastronomy, she flew to the United States to try out her luck in the restaurants abroad. Realizing that she still needed experience, she flew back to Manila and worked in local hotels and restaurants. This move was a wise decision because as soon as she acquired new skills, she went on her way to become part of renowned establishments like the Kumi Japanese restaurant in Mandalay Bay, Las Vegas.