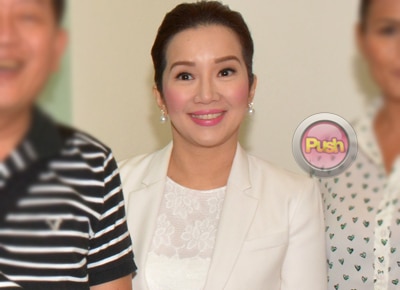 Despite the hectic schedule of the Queen of All Media Kris Aquino, she still took time to post a photo of her youngest son, Bimby on her Instagram account with the caption: "I'm home… 1 hour before I need to leave for ABS. We've been practicing our conversational Filipino. My new rule w/ Bimb: pag kinausap ko sya ng straight Tagalog, dapat straight Tagalog din ang sagot nya.
Kris: Sino'ng mahal mo?
Bimb: Siempre, ikaw.
Aaaaayyyy- #TunawAngPuso"
Aside from sharing her new rule with her son, she also took time to answer some of the bashers on her account. One basher commented that Bimby looked gay on the photo posted.
Instead of hating the basher, Kris rather exchanged the act with kindness. She commented and said:
The basher soon apologized to Kris and deleted his comment. However, another basher asked Kris about Bimby's necklace and included the issue of the Hacienda Luisita. Kris did not let this pass and she answered: