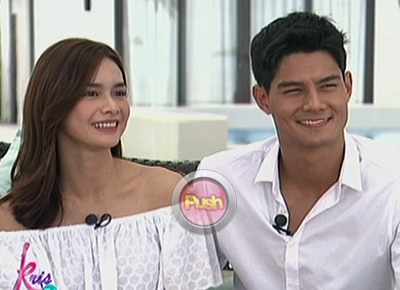 Actor Daniel Matsunaga and actress Erich Gonzalez finally told their love story in an exclusive
Kris TV
interview aired this Thursday, June 25.
Although Erich and Daniel have gotten close on the set of Two Wives, the actress revealed she did not immediately tell Daniel that she has broken up with her boyfriend.
"Siyempre hindi kaagad. Kelangan ko muna ng time for myself. Super close tayo sa Two Wives pero nag ano muna ako … wait lang. Clear my mind muna," she said. Eventually she told Daniel the news.
Daniel, on the other hand, said his relationship with Erich came at the right place and right time.
"I have said in interviews that God has really his own timing. It's not something you had to rush, I never rushed to have any relationship. I always waited, (it took) 3 years for me to have a relationship. I always trust and have faith, it always happens in the right time."
The two said their first date was with Daniel's mom at a Thai restaurant in Makati. This was followed by attending church together and going to the movies with Daniel's family.
Both Born-Again Christians, Erich shared that Daniel listens to his mom Geralda when it comes to women. "Pag-ayaw ng mom niya sa girl, nakikinig siya. Ayaw niya na din," she said.
Talking about their recent Hong Kong trip, Daniel said that they are not into material things but they cherish privacy and time spent together. Erich, on the other hand, admitted that she did a lot of things for the first time with him such as exploring the streets of Hong Kong and riding the city train. Furthermore, Daniel has made Erich spend time with him at the gym, something she does not do.
"Alam mong ayaw ko ng gym, hindi ako nag-gi-gym," Erich told Kris.
Erich, meanwhile, is teaching Daniel the art of gardening, for she has a small garden in her home. (continued on next page)
The couple agreed though that their favorite activity together is singing videoke. They love videoke so much that one time they spent 5 hours singing their favorite songs. The two revealed their theme song is Howie Day's "Collide."
One of the most memorable gestures of love that Daniel did for Erich was when he gave her a surprise visit during her Forevermore taping in Baguio. Daniel just got off from his work in Mindoro and travelled for about 18 hours.
"Sabi niya lang, check your Instagram. Tapos tinignan ko 'yung Instagram, sabi niya, 'am here na, sa labas.' Nandoon siya with a flower," said Erich and added that she felt so special and loved. She also said that Daniel spent time with her until after dinner before he went to work. "Hindi talaga siya puro words. Mas actions siya. Hindi lang siya basta sinasabi na I love you, I miss you. Ginagawa niya. I miss you that's why I'm here, nagtravel siya, parang ganon," she said and confirmed that Daniel went to Baguio three times just to see her.
Though they don't have concretely set rules in their relationship, Daniel and Erich said that they consider each other's feelings before doing something. Erich said that Daniel makes her happy because he takes care of her well. Daniel, on the other hand, said that she does not need to do anything to make him happy, her mere presence makes him so. Furthermore, he said that he appreciates how Erich treats her mother.
"Having him makes life so much easier and lighter and happier," Erich said.
Catch the continuation of DanRich's love story tomorrow, June 26 on Kris TV, after Umagang Kay Ganda.