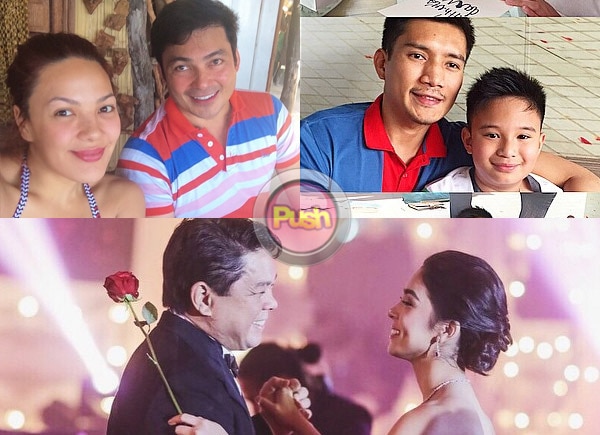 The relationship between a father and his child may not always be smooth and conflicts can become so intense that they sometimes sever their ties. Fortunately, these father-child pairs managed to reconcile and prove that blood is indeed thicker than water.
1. Gabby and KC Concepcion
Gabby and KC's closeness these days is a far cry from how they were before. There was no hate, at least, according to KC. But rather KC openly confessed that she bore pain and confusion throughout her growing years as her parents Gabby and Sharon Cuneta separated when she was only 10-years old.
It was only in 2006 when then Paris-based KC decided to meet with her father in the US. The decision was in part spurred by her decision to "resolve" matters in her life that would make her look for a father-figure and not husband-material next time she gets into a relationship. The first meeting brought KC to tears and eventually opened her heart not only to her father with whom she stayed with while in the US, but also her stepmother Genevieve.
To this day, KC spends time with her father and it was through him that she met and had a good relationship with her half-sisters Cloie Syquia snd Garrie Concepcion.
2. Dennis Padilla and Julia Barretto
The trial that almost tore Dennis and Julia apart started when the former supposedly failed to give support to his children and former wife Marjorie Barretto which led to their separation in 2007. For years, Dennis has had a strained relationship with his three children with Marjorie namely Julia, Claudia, and Leon.
3. James and Bimby Yap
James has not only had a rough relationship with his son Bimby, but also with the child's mother Kris Aquino when they decided to nullify their marriage in 2010 after five years of being together. From then on, Kris and James had a very rough relationship which had several bumps in the road like the filing of a temporary protection order after Kris claimed that James made "sexual advances" towards her. This was followed by a custody battle.
The ex-couples custody issue was only resolved last year when Kris claimed that they needed time to heal. Today, James and Bimby's relationship has been mended. In fact, James was even able to retain his closeness with Kris's older son Joshua as Bimby grew closer to the athlete's girlfriend Michela Cazzola.
4. Willie Revillame and Meryl Soriano
This tiff, according to Meryl, led for her father to stop giving her support which left her with no choice but to support herself and take a leave of absence from Central Saint Martins College of Art and Design in London where she's taking a Product Design course.
5. Freddie and Maegan Aguilar
The relationship of musician father-and-daughter Freddie and Maegan had been the epitome of free spirits in the past. The two backed each other and even figured in several projects and gigs together. However, their relationship turned sour last year when Freddie took on a new girlfriend, whom he eventually made his wife in the person of Jovie Albao.