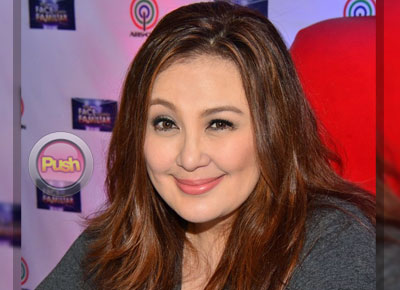 Sharon Cuneta revealed on her official Facebook page that she is not doing the new
The Buzz
with Boy Abunda. According to rumors, the Megastar is suppesedly hosting a new showbiz talk show with King of Talk Boy Abunda.
"There's some news going around (someone from a TV crew actually asked me about it last Thursday at my Mama Helen's birthday party, and then it came out in a major paper the other day lang) that I am going to be in a show with Kuya Boy Abunda to replace the former "The Buzz." That would be so great -- only, it isn't true. No one has brough it up with me or my manager Sandra Chavez, and I also asked Kuya Boy about it the day the write-up came out, and no one's talked about it with him either," she posted.
The actress added that she has no idea yet what will be her next project after her stint as a judge on Your Face Sounds Familiar. She also mentioned names of top stars today like Kim Chiu, Bea Alonzo, Sarah Geronimo and Bea Alonzo, who are in their 20s and could easily land roles one after another. She admits she's still working on her physique and is in fact thankful to her supporters who have accepted her as she is.
"I have no idea yet what I'm doing right after "YFSF" kasi my contract with ABS-CBN so far is only for that show. I wish I was as thin as Sarah or Kim or Maja or Bea, but truth is, I'm a mom now and no longer in my twenties so the weight isn't gonna just fall off as quickly as it used to! I'm just me. And it would be so sad if I had to apologize for being the 'me' that I am now, especially because of the 'me' I was for way too long. I will keep doing what I can, as long as I can, as far as I can take it. But no more than that. Besides, at this point, I think my loyalists love me for who I am and what I've achieved and given, and yes, to a certain point what I look like, but not just all that na," she said.