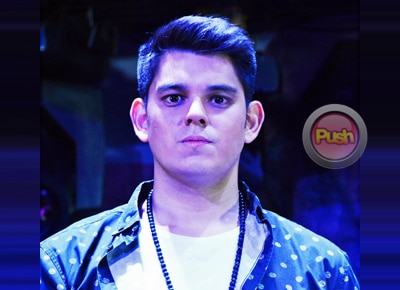 As the host of the new K-Pop icon search
Kispinoy
, Richard Gutierrez admitted he did not think twice about accepting the new project. "It's been a while since I've hosted something of this magnitude and I'm very excited for this new project. It's going to be the biggest K-pop icon search in the Philippines. It's something new and something fresh. It's an exciting new venture not only for me, but for the industry. It changes the landscape of primetime now because we have a lot of talent searches but it's the only time now that we're actually trying to cross bridges and conquer not only the Philippines but go across not only Korea but hopefully all across Southeast Asia. It's a great platform for our Filipino talents to be recognized not only here among local talents but to be recognized in Korea," he shares during the Kispinoy grand launch held last April 22 at the K-Pub BBQ Restaurant in BGC.
Richard will be hosting the show along with Jinri Park and judges Rico Blanco and former General Luna vocalist Nicole Asencio. During the grand launch, Korean artists like U-Kiss, Labom, and actress Seo Young-hee were present to show their support for the show. Richard said he is excited for the finalists who get a once-in-a-lifetime opportunity. "It's going to be pure talent. It doesn't matter where you come from and your background. It's going to be a no-holds barred talent show and whoever is the best is going to come out on top and the winner will be trained in Korea and will have the opportunity to have a career to only here but hopefully globally. So it's going to be something very exciting. There are going to be Korean K-pop stars flying into the country to judge as well so it's going to be different points of views from our judges. They'll know about the Korean style of doing things and more about the culture and they'll be given a break. Obviously the general goal of our producers is for the winner to be able to release an album and conquer the music scene," he explained.
The Kispinoy Korean selection committee will choose the top 100 contestants and then the local judges will trim the list to 30 finalists until the Kispinoy Ultimate icon is crowned in September. The champion will receive a multi-million peso recording management contract in Korea.
Richard says he is always open to a variety of projects, whether in acting or hosting. "Well it's something very exciting and very different and a unique project for me. I've been known in the past as someone who takes risks in trying to choose projects that are innovative and I think this is a innovative project. It's a different landscape and on primetime television.
Bago siya sa audience natin
, it's something fresh. And also, it can give an opportunity for our Filipino talents to break into not only the local scene but also around Asia. The global appeal of this show is what really made me say yes to it," he said.
The 31-year-old host admitted he is now more choosy with work. "Of course we're not getting any younger, I want to choose my projects wisely and spend time wisely also especially now that I have Zion. I'm just trying to choose which projects are right for me. As of now I'm choosing my shows carefully and I don't want to be tied up particularly to one network so I'm happy in that kind of set-up right now. I get free time and I get to choose wisely on which shows I should do and I'm very happy. It's a project per project case so if I feel like it's a good project and it's going to do well for me and I feel like I can devote time for it then why not?" he added.
Even with his family's reality show starting its new season soon, Richard said there is no conflict with Kispinoy. "I don't think it's a conflict. I think it's actually working well with reality show since it's also shown all across the region and E! Network is also strong in Korea so it goes hand in hand. I also miss acting of course and I'm actually planning to do a movie this year so I'm looking forward to that. I miss acting definitely," he admitted.
When it comes to intrigues constantly surrounding his family, Richard said he would rather not answer for other members of his clan. "I think you should talk to them. I don't think I'm in the position to talk about that right now. If you have the chance to talk to my sister and my mom maybe you should ask them but right now we just finished filming season three of It Takes Gutz to be a Gutierrez so I'm looking forward to that. So you'll get to know more about the family in the show. Kung meron man dapat abangan sa Gutierrez family sa season three madami kayong malalaman," he said.
The reality star said he has gotten used to being in the limelight all his life. "Ever since we were kids we grew up
na talagang
more or less
alam na rin ng tao lahat ng nangyayari sa pamilya namin
and now that we're doing a reality show you have to be open. You have to give the audience what they want and people should be able to relate and you have to be true to your audience so that's the reality show concept and we're open to that," he shared.
As father to a little boy, Richard said he is learning a lot. "It's really one of the best adventures of my life. It's really a great journey and I'm enjoying every moment. He's growing up so fast. That's what I realized, when you have a kid they grow up so fast and time really flies. That's why I'm also taking care of my time with my boy Zion," he said. And even though there is a rumor his partner Sarah Lahbati is pregnant again, the Kispinoy host laughs it off. "This time tingnan natin pero right now we're enjoying Zion. Family planning muna (laughs)."
Kispinoy auditions officially kicked off last April 22 and will be held in SM malls nationwide. The audition dates and venues are as follows: April 22 to 23. SM Mall of Asia; April 24 to 25, SM City Pampanga; April 27 to 30 Pampanga (venue to be announced); May 7 to 9, SM City CDO; May 9-11, Mandaluyong City Hall Gym; May 12 to 14, SM City North Edsa; May 13 to 15, SM City Cebu; and May 21 to 23, SM City Dasmarinas and SM City Bacolod.