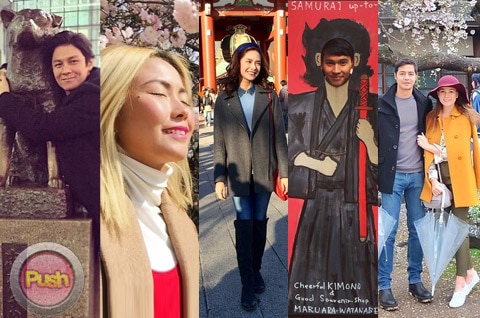 Over the past months we have often seen local celebrities posting on their social media accounts memorable moments they had in Japan. Some may not be entirely for leisure, but definitely these stars enjoyed their stay in the Land of The Rising Sun.
So what makes Japan special? Here's a list why should plan and make the country your next travel destination.
Sightseeing


Almost everyone who visits Japan has their picture taken with legendary dog, Hachiko.

And see the picturesque Mt. Fuji.
Go to their historical temples.
Ride their amazing transportation.
Get close to animals from the wilderness. Or maybe pet one or two in a cat café.
Become a kid at heart at their huge theme parks
Meet geishas and some cute kids on the streets
And of course, experience cherry blossom season.
Food


It's the chance to taste authentic Japanese cuisine. Ramen, sushi, sweets. Japan is the land of gastronomical delights.
Snow


Japan is one of the countries close to the Philippines that experience winter. Celebrities love to frolic in the snow despite negative to zero degrees weather.
Fashion


The cold weather is also an excellent excuse for you to layer up and wear a trench coat or boots. Look like you've stepped out of a fashion magazine's winter or spring edition.

Shopping

It is also an excellent place to indulge in unique items and shop.