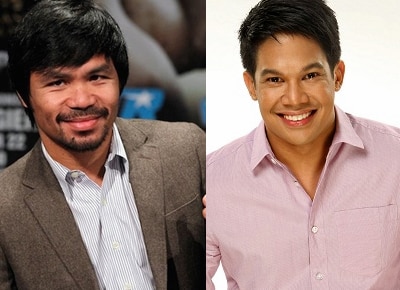 Radio personality Mo Twister expressed disagreement with the way boxing champ Manny Pacquiao announced his upcoming much-awaited bout with American boxer Floyd Mayweather.
Mo, took to his Twitter account on February 21, to chastise the Saranggani congressman.
"First of all, as a sports fan, thrilled about the @FloydMayweather @MannyPacquiao fight! But for Manny to say Glory to God that the fight is on, yet it's a barbaric form of entertainment wherein you hurt humans in exchange for massive wealth, doesn't make sense," he began.
Then Mo added, "You hurt people for a living, to be rich, for pride (ours and yours) so leave shouldnt [sic] God be left out of it?"
While there were those that agreed with the blunt DJ's comment, there were a number who thought that his comment was unnecessary.
"How bout u just shut up and be happy that the fight is finally on dang u find negativity in everything," said one commenter.
Another one pointed out Mo's supposed "self-righteousness" and said "stop being so self-righteous, you're becoming like those rich politically correct spoiled brats you often hate. #sellout be not."
Another follower meanwhile hit below the belt and commented, "Ikaw naisip nyo din ba ni Rhian (Ramos) ang Diyos habang pina A nyo ang baby nyo?" (This was in reference to Mo's revelation that Rhian had an abortion.)
The touted mega fight between the eight-division boxing champ and the undefeated five-division champion will happen on May 2 at the MGM Grand Arena in Las Vegas.
Reports have it that tickets for the bout are already almost sold-out four days into the announcement and are now being sold at a much higher rate.

Main Photo credit to http://entertainment.inquirer.net/