Veteran broadcast journalist Ramon Tulfo in his column at the Philippine Daily Inquirer on February 17 wrote about the supposed "prevalent" drug use in the De La Salle-College of Saint Benilde where his daughter, Nastassja Ramone is currently studying.
At the risk of "exposing himself to embarrassment," Ramon revealed that he learned about it through his own daughter and decided to write about it to have the other parents "take proper action to protect their children."
"My daughter came home several nights ago, her eyes drooping. She admitted to her mom that she had taken Valium, a depressant, which she and her classmates bought from a fellow CSB student," he wrote.
Ramon then added, "When her mom and I searched her bedroom, we found a sachet of marijuana. She said she bought it from a pusher in one of the coffee shops near the school."
Upon further questioning of his daughter, Ramon claimed that he was able to extract from her the coffee shops where the illegal drug transactions were supposedly happening.
"I learned that these establishments have been raided by the police several times, but they remain open," he wrote.
Hoping to put an end to the widespread illicit transactions, Ramon shared that he went to CSB on Monday "to inform school authorities about the drug problem among their students but nobody wanted to talk to me."
In fact, he even went as far as calling the school's president and vice president but after having wait for an hour without any response, he left "disgusted."
In the end, he claimed that the supposed drug pushers from the school are "scions of rich or influential families."
(continued on next page)
Upon learning about what her father did, later that same day, Nastassja took to her Twitter account to post a photo of her father's column and her strong reaction to it.


She even went on to say that her school shouldn't be blamed for what happened.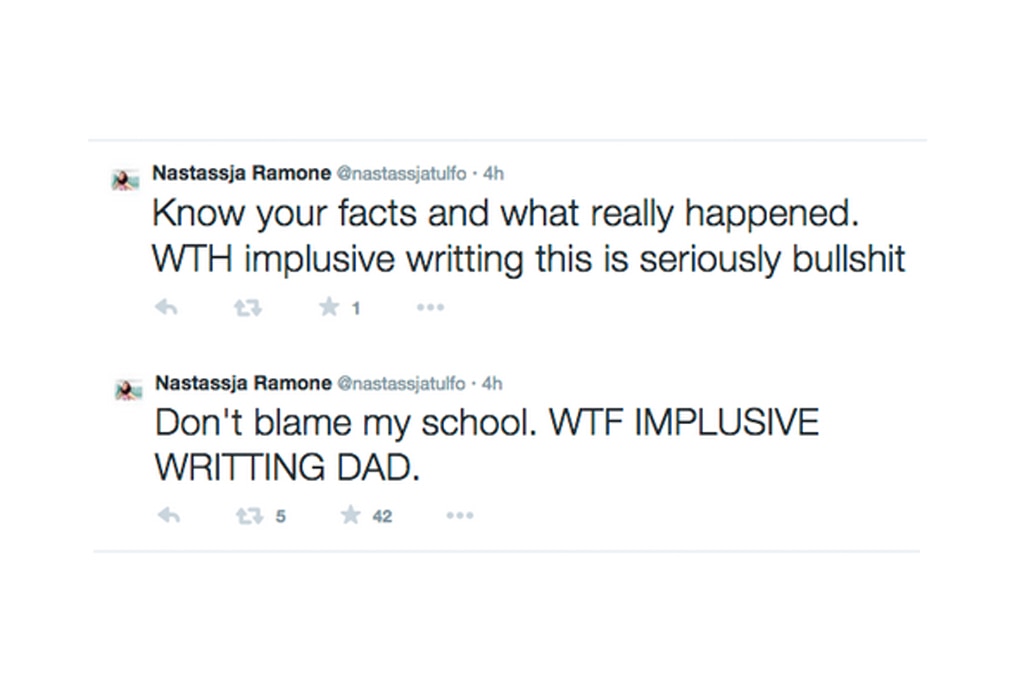 (continued on next page)
Moreover, she also chastised her father for "ruining their family and her name."



When asked by a follower what she thinks her father hopes to achieve with his expose, she posted:




Main Photo credit to www.youtube.com