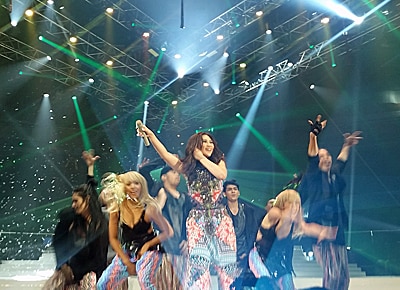 "Tonight is all Pinoy, all original, all Sarah, all heart and soul."
This was how PopStar Princess Sarah Geronimo introduced her latest concert From The Top during the first night of her two-day show at the Araneta Coliseum on Friday, December 4.
For the first time in her 12-year career in the business, Sarah opted to be "daring" and "independent" in her repertoire by embracing OPM and singing 85% of her original songs on the show.
Sarah allowed her international pop covers to rest for a moment, as the two-and-a-half hour spectacle composed of 21 songs only saw three cover songs. They are The Breakup Playlist's theme song "Paano Ba Ang Magmahal" an Erik Santos and Leizel Garcia original which Sarah performed with the King of Teleserye Theme Songs, the timely "Have Yourself A Merry Little Christmas" by Judy Garland and the appropriate song "Thank You" by Dido.
According to Sarah, the concept of the concert came out after realizing, through her many years of performing, that she tends to highlight other international hits when she has had a number of songs and albums herself. This realization led her to the title From The Top which had her performing unreleased songs and reintroducing other songs in her past albums.
Among the songs she performed were "Record Breaker," "Played," "Just Me," "What Have You Done To My Heart," and her finale song "Movie Love."
Songs like "If Only" "Ibulong Sa Hangin" and "Forever Is Not Enough," from her breakthrough album in 2003 titled Popstar: A Dream Come True also lent a little throwback vibe to the show.
Sarah also performed tracks from her more recent releases like the 2013 album Expressions particularly "Again," an acoustic version of "Ikot Ikot," the empowering "Tayo" and her co-written song "Make Me Yours" with her musical director Louie Ocampo.
Her 2014 album Perfectly Imperfect is where most of her songs for the concert came from, including her opening song "Kilometro" which had an overture of her hit "To Love You More." She likewise performed the heartbreaking "Dulo," the bouncy "Perfectly Imperfect," the endearing "This Fight" together with its composer Kito Romualdez and "Minamahal" which she dedicated to her fans.
Sarah's also performed the song titled "Tala" from her newly-released album titled The Great Unknown.
Halfway through the show, Sarah got a little emotional while revealing that: "Nagalangan talaga akong mag-show kasi feeling ko wala na akong maibibigay."
But whatever hesitations that she might have felt before were doused with loud screams and cheers by her thousands of fans called the Popsters who trooped to the venue.
Among the personalities who joined the Popsters and enjoyed Sarah's first concert night were Anne Curtis and her composers Vehnee Saturno and composer-couple Thyro and Yumi.
Fans of the Pop Star Princess can still catch the second night of her From The Top concert December 5 at the Araneta Coliseum.