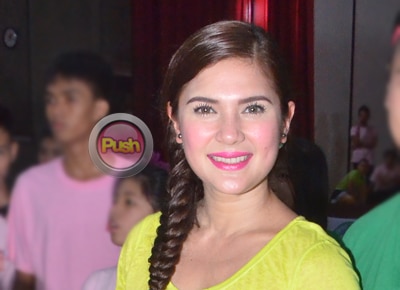 Vina Morales and her boyfriend Marc Lambert's ex-girlfriend Avi Siwa got into a heated argument online when Avi shared photos of herself, Marc, and their baby daughter on Instagram. Vina congratulated her for the successful delivery, but reminded her that she can read all e-mails to Marc and that they are now together. She also reminded Avi that the latter had promised Marc not to post his photo and that they had already been separated for nine months.
Avi first clarified that she and Marc are just "friends, business partners and want to be the best parents to Victoria (their baby)" but then she changed her mind and told Vina to stay out of her parenting with Marc.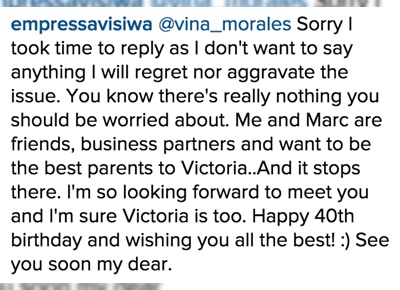 "Actually @vina_morales I changed my mind.Stay d hell out of my parenting w/ MARC LAMBERT. Ur a new girlfriend & don't have any right to tell me how I shld deal w/ this.Even if u get a ring on ur finger, u have no right to stand between my child & her Dad," Avi wrote. She also warned Vina about exposing her real nature and to stop playing innocent.
Avi also accused Vina of preventing Marc from visiting their daughter Victoria because Marc was supposedly absent from Vina's birthday. "know ur position (Only 2 months w/ Marc), recognize AVI SIWA d mother of ur current BF's child is NO SUCKER & don't stop Marc again frm seeing his child.If ur game is destroying families,then u made d wrong move on destroying mine.Don't u ever talk to me that way again.Watch what u say next if u don't want d whole country knowing ur dirty little secrets," Avi ended.
Vina didn't reply to any of Avi's post but on her Instagram account, one fan told her that Avi has posted messages against Vina but her only reply was, "Hayaan nalang natin siya."