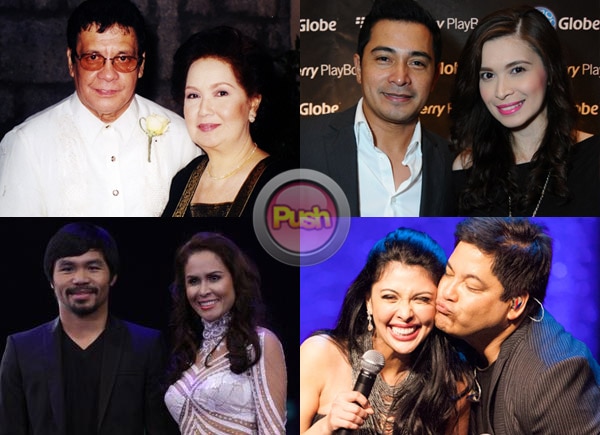 One of the foundations of any good relationship is remaining faithful to your significant other. Temptation, however, has proven too great for some and they give in. Here are some well-known couples whose relationships were set back by a third party.
Kim Chiu and Gerald Anderson
During a guest appearance on the September 27, 2015 episode of
Gandang Gabi Vice
,
Kim admitted that she had an ex-boyfriend who cheated on her
. While she did not name Gerald specifically, she did say that she has had only one boyfriend. Since it was widely known that Gerald had been with the actress since their
Pinoy Big Brother Teen Edition
days, many concluded that it was indeed Gerald who strayed.
Kim didn't immediately give up on the relationship though. "Kumapit ako nun," she told host Vice Ganda.
She was eventually able to move on, chalking up the experience to growing pains. "It's part of growing up, the pain." She added, "Tinatawanan ko na lang ngayon."
Kris Aquino and James Yap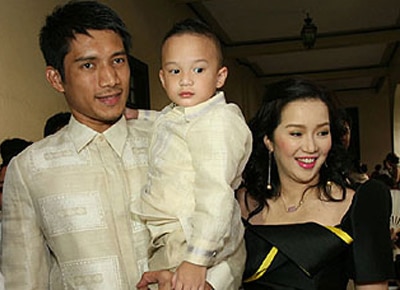 This is perhaps one of the most controversial stories of infidelity in showbiz since it appeared in most of the newspapers and was featured on TV shows and news programs in 2007.
Kris, then pregnant with son Bimby, had a birthday celebration on February 11, 2007 episode of The Buzz. Some observers noted how Kris was treating James in a somewhat cold manner. It was only a matter of days when reports came out that James was allegedly cheating on the Queen of All Media.
The third party was a certain Hope Centeno, then a receptionist with the Belo Medical Group. James visited the clinic once a week for treatments when he supposedly carried on a relationship with Hope.
Hope claimed her almost 11-month relationship with James began two weeks before she found out he was married to Kris. In an interview, Hope said that their relationship was mostly via text messages, calls, and their weekly trysts.
One of her co-workers claimed that Hope was obsessed with James and just imagined the whole affair.
This affair was also supposedly the reason why Kris and former co-host Cristy Fermin are no longer friends. Speaking with the press, Cristy said that Hope had actually approached her first about her affair. Cristy then tried to tell Kris as gently as she could given her then delicate condition. Kris reportedly did not believe the veteran showbiz reporter which led to a rift in their relationship.
Sunshine Cruz and Cesar Montano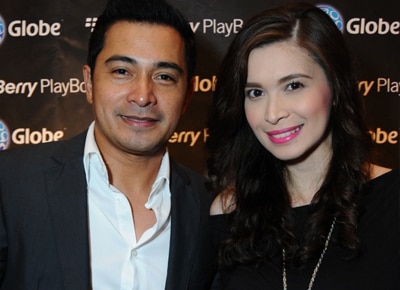 The reason for Sunshine and Cesar's split in 2013 was revealed in a most public way: via social media.
On her Instagram account, Sunshine posted a question if it was proper for someone to send sexy messages and provocative pictures of themselves to a married man. This was followed by a screen-grab of Krista Miller's Instagram account where the starlet had posted photos of gifts to her. Sunshine then alleged that the gifts were in fact items from her own home and some she had given to Cesar.
In an interview with The Buzz, Krista denied the allegations. Cesar was then her director and co-star in The Turning Cradle: The Untold Story of Alfredo Lim. Krista said that their working together was being misconstrued by Sunshine for something else.
At any rate, Krista would later say that she no longer had communication with Cesar. Cesar, for his part, was rumored to have fathered a child with model Sandra Seifert, something his friends and managers have denied.
Sarah Geronimo and Rayver Cruz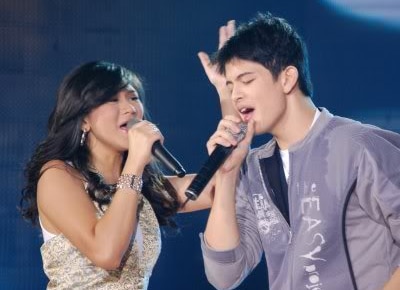 It's widely known that Sarah is closely guarded by her parents, most notably by her Mommy Divine. This over-protectiveness supposedly led to the deterioration of her then very secret relationship with Rayver.
During their one-year relationship, Sarah and Rayver were alone by themselves twice, not even lasting an hour in total. Most of their relationship was conducted via Skype and text messages. It was enough to put a strain on their relationship.
In her interview with Yes! Magazine for its March 2011 issue, Sarah said, "Sabi ko po sa kanya noon, 'Alam ko na darating 'yong panahon na may babae talaga na libre, na puwede mong makasama.' Sabi ko, 'Okey lang 'yon sa akin, basta maging honest ka lang sa akin... 'Yon po 'yong naging kasunduan namin—pero talaga pong ano, para akong ano, winasak talaga. Na 'yong pinagkatiwalaan kong tao e lolokohin ako."
For his part, Rayver admitted he was at fault, that while he knew the relationship was going to be difficult given the very tight restrictions, he had made a promise to do his best to wait.
And the cause of breakup? Cristine Reyes. The sultry actress and Rayver struck up a romance that, of course, ultimately ended the actor's secret relationship with Sarah. Fans attacked Cristine for her role in the breakup and the latter was quick to fire back on her Twitter account. Sarah eventually mended ties with Cristine and Rayver.
Bing Loyzaga and Janno Gibbs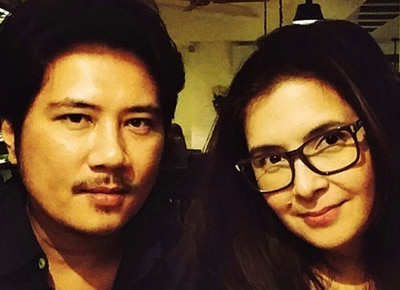 Rumors about Bing and Janno's marriage have been going around for years. One hiccup in their relationship apparently came about when Regine Velasquez entered the picture. Bing reportedly even confronted the Songbird backstage of their Sunday variety show. The two women eventually made peace, but breakup rumors continue to plague Bing and Janno's relationship.
Gelli de Belen and Ariel Rivera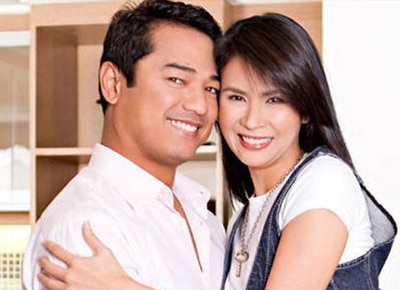 When they were still dating, Gelli and Ariel broke up because of Regine Velasquez. Ariel and Regine were together in several TV programs and out-of-town shows and reportedly developed feelings for each other. Ariel eventually decided to reconcile with Gelli and the couple tied the knot. They've been together for almost twenty years now. As for Regine, she and Gelli have also mended their relationship.
Ogie Alcasid and Michelle Van Eimeren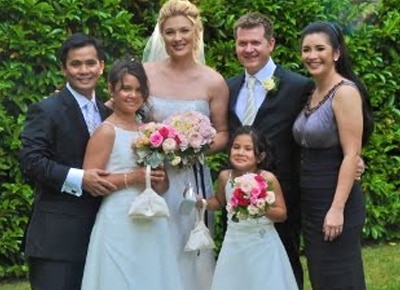 Ogie's own marriage to Michelle was plagued with rumors linking him to Regine Velasquez. Many believed that the affair was the reason why Ogie readily agreed to let Michelle move back to Australia with their two daughters.
Ogie and Michelle's marriage eventually broke down and was annulled in 2007. In 2009, Michelle married fellow Aussie Mark Morrow in ceremonies attended by Ogie and then girlfriend Regine who would later tie the knot in 2010.
Now, their families are so close that Ogie and Regine spend Christmas in Australia with Michelle and Mark. Michelle is even the ninang of Ogie and Regine's son Nate.
Pops Fernandez and Martin Nievera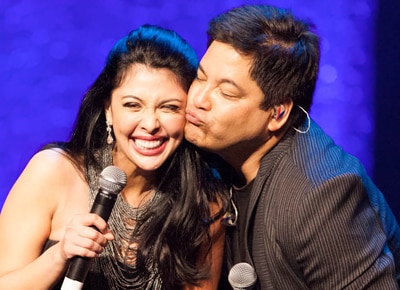 When Pops and Martin declared on TV that they were getting married, their fans couldn't be happier. After all, the duo had been unexpected chemistry on their show drove people to watch them week after week.
Years later, their marriage broke down after Pops discovered that Martin had been unfaithful. In an interview with Yes! Magazine published in October 2007, Pops revealed how she found torn receipts for purchases that she figured were gifts for someone he wanted to keep secret. While on vacation abroad, she overheard Martin talking to someone on the phone. "He was on the phone, and he kept saying, 'I love you. I really missed you.'"
She was initially in denial until a friend had to sit her down and give her a reality check that her husband had been cheating on her for about a year.
After the split, Martin and then girlfriend Katrina Ojeda settled in the US. They had a son named Santino before they eventually separated reportedly because of another woman.
Dina Bonnevie and Vic Sotto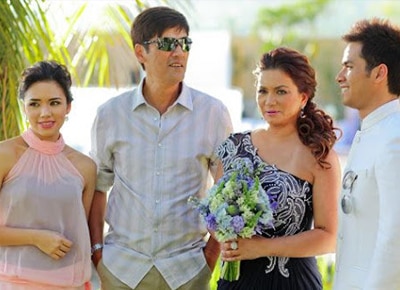 Dina and Vic got hitched in 1982 only to break up four years later. Their marriage was eventually annulled in 1992 and the two have since moved on to other partners.
During the premiere of her digitally restored movie Hindi Nahahati Ang Langit, Dina talked about the then state of her marriage while she was shooting the film. It was at that time when the relationship was already unraveling, and she was "grieving" over the end of the marriage.
She also admitted that another woman was the reason for the breakup. "Kasi siyempre parang magulo na, may third party na yung marriage namin. So I was thinking, 'my God, parang it's true pala na…' Well they say, showbiz and movies imitate life," she said in the interview.
Ever the professional, she was able to channel her emotions into her work. "I guess this movie was the first movie when I truly could understand what being heartbroken was. What being hurt was. Dito sa movie na to una kong naintidihan at na feel kung ano talaga yun. Kasi it's really happening in my life."
Marjorie Barretto and Dennis Padilla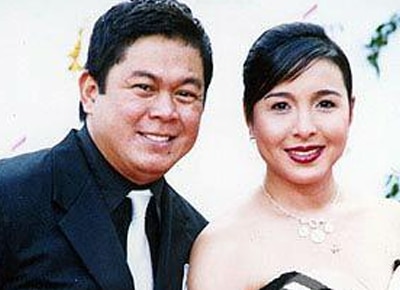 Dennis already had one failed marriage while Marjorie had a daughter out of wedlock when they got together in 1997. Almost a decade later, Marjorie filed for an annulment of her marriage, citing that Dennis's previous marriage had not been annulled.
Rumors about the cause of the separation included Marjorie being linked to then Caloocan Mayor Recom Echiverri. Marjorie had won as Councilor in Caloocan' second district under the mayor's party. Marjorie brushed off the rumors as mere black propaganda by their political opponents.
Richard Gomez and Dawn Zulueta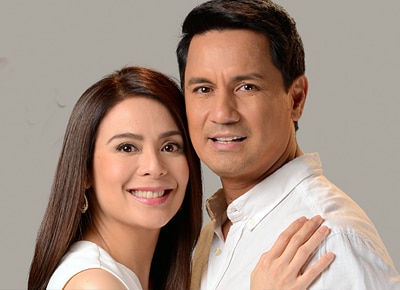 They were the "It" couple of the eighties. Both tall and gorgeous, Richard and Dawn were the ideal couple on and off screen. The two eventually broke up and got married—Richard to Lucy Torres and Dawn to Davao del Norte representative Anton Lagdameo.
During a guest appearance on Gandang Gabi Vice last August 16, Dawn revealed how people would tell her that some women were trying to catch Richard's attention when they were still a couple. Every time she would ask him about a rumor, he would deny it. After two years of persistent rumors, Dawn called it quits, believing that Richard was not ready for a commitment.
But all is good between the former couple. Their TV and movie reunions have been warmly received by audiences and there has been a resurgence of their "CharDawn" love team.
"Kung kami, baka wala tayong love team ngayon. Feeling ko lang, baka hindi. Baka nawala ang excitement. Kasi siyempre nasanay na 'yung mga tao na kami ang magkasama baka wala na ang spark," Dawn said of their renewed popularity.
"Its better off this way. 'Yung fantasy ng tao nandun lang. Kung kami ang nagkatuluyan, mawawala."
Bong Revilla and Lani Mercado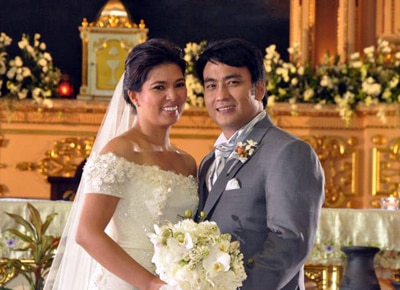 Rumors about Bong's wandering eye have been around for years. His dalliances reportedly included Ruffa Gutierrez, Rufa Mae Quinto, Dina Bonnevie, and Gretchen Barretto.
Bong has had relationships with non-showbiz women as well. A few years ago, Lani admitted that she had met Luigi, Bong's love child, when he was just six years old in 1998.
Lani revealed in the December 2007 issue of Yes! Magazine what she felt discovering that her husband had cheated on her. "Masakit. Definitely, it was painful. There were things you have to accept. Ang greatest fear ko noon, malaman no'ng batch one kids (her children Bryan, Jolo, Inah), but hindi naman nila nalaman at that time. It was when we transferred here in Alabang (where the interview was conducted) that they knew. Mga age ata ni Ram (9) nila nalaman."
In September 2007, Josephine "Jopay" Canonizado reportedly gave birth to her and Bong's love child, a daughter named Chloe. Jopay was the Mutya ng Pilipinas-Asia Pacific title holder in 2000 and a print and commercial model who dabbled in a few movies where she presumably met Bong.
Despite the other women and the political woes Bong is currently in, Lani has chosen to stay by his side. While she doesn't like being labeled as a "martyr," she said she chooses to leave it up to God. Again in Yes! she explained, "I'm not as calm as you think. I'll tell you what I think. Kasi a lot of people think parang wala akong alam or parang dinededma ko lang. No, it's just that if I do something drastic—for example, if I try to leave him—it will not only allow and let others step in but also create a bigger sin."
Being attracted to several women runs in Bong's family with his dad Ramon Sr. fathering over 80 children (by their estimates anyway) with several women.
Talking about his own indiscretions, Bong joked, "Kasalanan 'to ng tatay ko, eh. I'm just joking. I'm definitely not like my father na anak dito, anak doon. I think I have how many brothers and sisters. Nasa otsenta 'ata kami, I don't know. Hindi naman ako ganoon. Actually, mabait na ako ngayon, e."
Susan Roces and Fernando Poe Jr.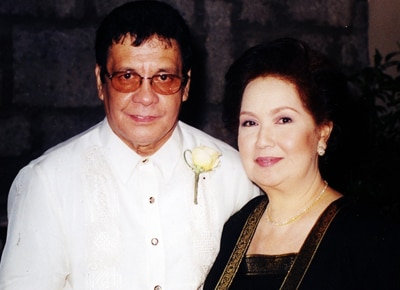 In February 2004, FPJ finally admitted in an interview that he had fathered children outside of his marriage to Susan Roces. At the time, Da King was under public scrutiny since he was about to run for the highest office in the land.
He confirmed that he had a son with former actress Anna Marin. Ronian Poe has since become a successful DJ. His daughter with former actress Rowena Moran, Lovi Poe has become a popular actress as well.
Whatever might have been his shortcomings, his marriage to Ms. Susan remained strong until his death on December 14, 2004.
Joseph Estrada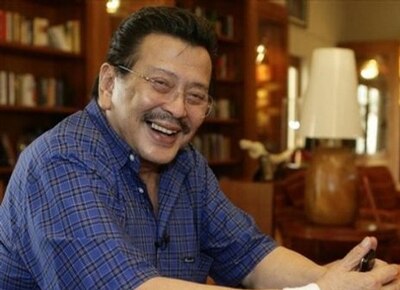 While Erap has remained legally married to Loi Pimentel-Ejercito since 1959, he has had affairs with some women, most notably former actresses Guia Gomez and Laarni Enriquez.
Guia is the mother of Senator JV Ejercito and is the current mayor of San Juan City. The closeness of the Ejercito family is such that even Jinggoy, Erap's son with Loi, is supporting her 2016 re-election campaign.
Laarni has figured in showbiz news in the past few years because of her son Jake's association with actress Andi Eigenmann.
Complex and complicated the Estrada/Ejercito family may be, it somehow works for them.
Manny Pacquiao and Jinkee Pacquiao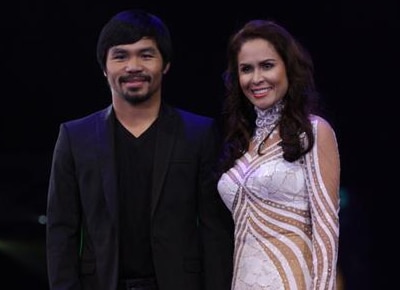 Before Manny renewed his faith, there were rumors that he was a less than faithful husband.
One rumor is that he had a love child with Joanna Rose Bacosa, a receptionist whom he met at a bar at the Pan Pacific Hotel in 2003. He allegedly gave her cash gifts to support her throughout her pregnancy. After she gave birth on January 2, 2004, Manny supposedly visited her and their son. By 2005, the relationship was at a dead end.
In 2006, Joanna went public in the hopes of getting child support from Manny and for him to acknowledge their son. Reports that a settlement was made out of court for a one-time amount of 500,000 pesos and a 10,000 peso monthly allowance. In 2011, Joanna resurfaced to ask Manny to have a presence in their son's life.
Another rumor came out in September 2009 saying that Manny was involved with his Wapakman co-star Krista Ranillo. Ricky Lo had hinted in his column that a ladies' man was spotted in Hong Kong with "Actress K" which he later revealed to be PacMan and Krista.
Krista was reportedly also seen with Manny in Baguio where the latter was training for his fight with Miguel Cotto and in Angono, Rizal at a relief distribution event for the victims of Typhoon Ondoy. Krista and her family stayed in the same Las Vegas hotel where Manny was billeted for the fight with Cotto. Video allegedly of Manny and an unidentified woman in Las Vegas (which many believed to be Krista) also surfaced online.
Adding more fuel to the fire was a Facebook update by actress Gina Alajar that said, "If I were Jinkee Pacquiao, I would not give up Manny. Krista Ranillo is not at all worth it!" Gina's own marriage to Michael de Mesa ended in 2001 after the actor's reported affair with Krista.
Both denied the rumors and Krista has since relocated to the US while Manny has renewed his faith and has become a Bible-quoting Christian.