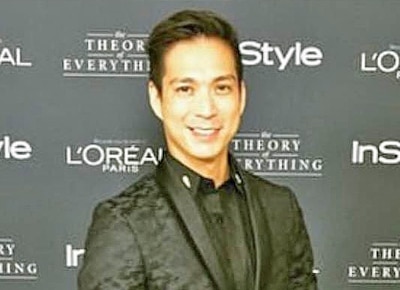 Internationally acclaimed Filipino fashion designer was recently invited by the Hollywood Foreign Press Association as one of its selected guests in the recently concluded 72nd Golden Globe Awards held at Beverly Hilton Hotel in Beverly Hills, California. Libiran established strong ties with several members of the Hollywood Foreign Press, particularly with Ruben and Janet Nepales, after he was featured on Tyra Banks' top-rating reality TV show, America's Next Top Model. Francis was joined by his business manager and president and CEO of Advocate Fashion Inc., Arsi Baltazar.
"We are really honored and thankful for the invitation given to us by Ruben and Janet Nepales of the Hollywood Foreign Press Association. Ruben and Janet have been representing the Philippines in Hollywood for several years and they both continue to bring pride and glory to The Philippines. They have been consistently working with the biggest Hollywood stars," said a very ecstatic Francis Libiran.
"Janet was recently recognized by the Filipno Women's Network as one of the 100 Most Influential Filipina Women In The World for 2013 in the category of innovators and thought leaders while Ruben is the first Filipino member in the 70-plus year history of the Hollywood Foreign Press Association that votes on and presents the annual Golden Globes. Truly, the Nepales couple is a pride of The Philippines."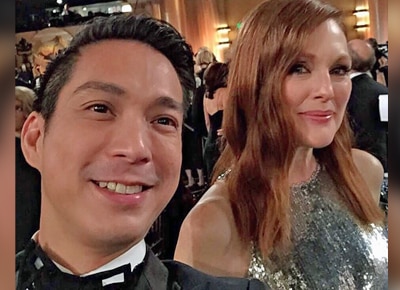 As expected, Libiran and Baltazar were introduced to several Hollywood heavyweights such as the cast of The Theory Of Everything such as Eddie Redmayne, Felicity Jones, and Kate Mara. Libiran and Baltazar, who both wore original creation creations by Francis himself, were able to catch the attention of Golden Globes winners such as John Legend, Julianne Moor, and Amy Adams.
Libiran and Baltazar were also invited to the cast party of Walt Disney's Into The Woods, where they partied with James Corden and the legendary Meryl Streep who complimented Francis' camouflage suit ensemble. Meryl Streep even talked to Francis about dressing her up in her future red carpet events. John Legend also talked to Francis for a possible collaboration in the coming months. When asked about his picks for best dressed, Francis immediately replied Felicity Jones, Amy Adams, Emma Stone, and Anna Kendrick.